Peter H. Bloom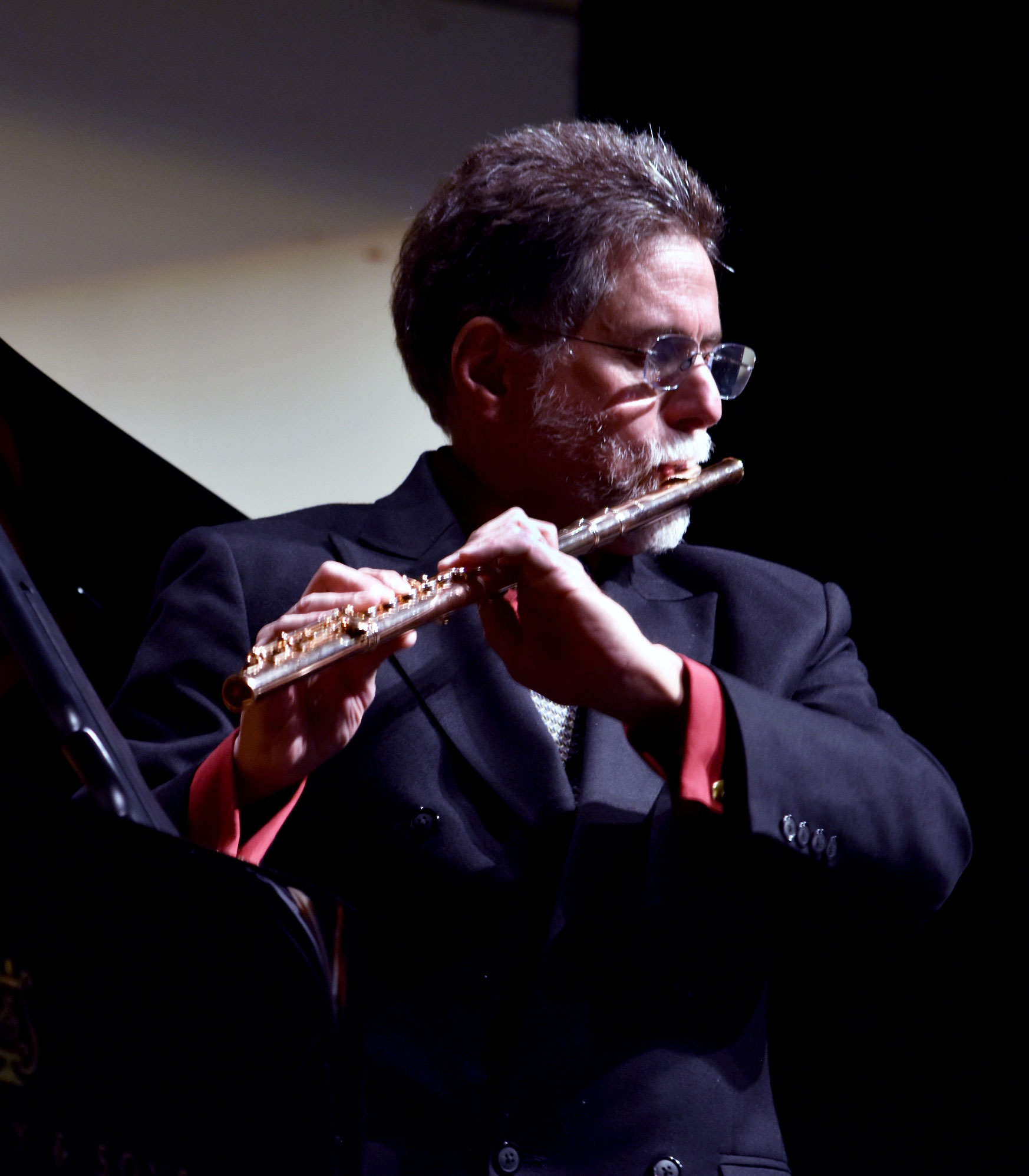 Peter H. Bloom, flute, concertizes in North America, Europe and the Far East; is featured on more than 45 recordings; and is a winner of the American Musicological Society's Noah Greenberg Award. He performs chamber music from the Renaissance to the 21st century with Ensemble Chaconne, Ensemble Aubade, The Karl Henning Ensemble, The D'Anna Fortunato Ensemble, and others. He is a noted jazz artist, veteran of the internationally acclaimed Aardvark Jazz Orchestra (47th season) and the FiLmprov Ensemble (23rd season), and founding member of The Modernistics. The Boston Globe called his playing "a revelation for unforced sweetness and strength," while Jazz Improv hailed his "exquisite melody…the improvisations growing organically out of the theme," and ArtsFuse wrote, "His solos on flute and amplified flute are always highlights of a performance."
Mr. Bloom has given lectures, workshops and master classes across the globe on such wide-ranging topics as historical performance, new music, jazz standards, and improvisation. He has served as historical performance consultant to The American Museum in Britain, The New-York Historical Society, The American Antiquarian Society and The Museum of Fine Arts Boston, where he has given numerous lecture-demonstrations and recorded for the audio guide to historical woodwinds. A former board member of The James Pappoutsakis Flute Competition and the Society for Historically Informed Performance, he holds an MM with distinction in flute performance from New England Conservatory of Music and a BA (philosophy) from Boston University.
Among his many recitals and chamber music concerts, Mr. Bloom has performed for The National Gallery in London, Animusic Portugal, The Goethe Institute in Bangkok, The New Zealand School of Music in Wellington, University of Canberra College of Music (Australia), Payap University in Chiang Mai (Thailand), The Yale Center for British Art, The Metropolitan Museum, Atlanta's Spivey Hall, The American Musical Instrument Society, The National Flute Association, The Shakespeare Association of America, The Bach Festival Society of Winter Park Florida, The New York Flute Club, the Royal Shakespeare Company Residency at Davidson College, and the National Gallery of Canada in Ottawa.
A champion of new music, Mr. Bloom collaborates extensively with composers and has given premieres of works by Elizabeth Vercoe, Elliott Schwartz, Narong Prangcharoen, Karl Henning, Pamela Marshall, Mark Harvey, Edward Jacobs, Richard Nelson, Marianela Maduro, Peter Aldins, Richard Cornell, Timothy Bowlby, Matt Samolis, and others. Original compositions, including numerous works written for him, have been a vital part of his concert tours for more than three decades, across forty states and four continents.
Mr. Bloom's career in jazz encompasses free improvisation, jazz standards, blues, bebop and the avant-garde. He has appeared with Charles Neville, Jaki Byard, Sheila Jordan, Geri Allen, Ricky Ford, Walter Thompson, Raj Mehta and other notables. A veteran with the internationally acclaimed Aardvark Jazz Orchestra, Bloom has performed with the orchestra at hundreds of venues and appears on all of Aardvark's 15 CDs. With members of Aardvark, he recorded improvised music for the National Film Preservation Foundation's DVD series Treasures from the American Film Archives, which The New York Times called "one of the best sets of the year."
An extensive discography includes recordings for SONY Classical, Dorian, Leo Records, Newport Classic, 9Winds, North Star, Americas Musicworks, Soundjewel, and other labels. Mr. Bloom appears with pianist Mary Jane Rupert (The Duo "2") on two discs from Navona Records that feature works by Elizabeth Vercoe: Butterfly Effects ("stunningly beautiful" – Cinemusical) and Kleemation and Other Works ("outstanding in every respect, an artistic masterwork" – IAWM Journal). He was executive producer and soloist in D.C. Hall's New Concert and Quadrille Band's recording Grand Concert!, praised by Gramophone: "Clean playing and careful ensemble are the keynote...Hall's Band meets the challenge with precision and spirit." (Dorian, re-released on Americas Musicworks). Other recordings include Hall's Band's Union and Liberty (music of the American Civil War, Dorian), Measure for Measure: Music of Shakespeare's Plays (Ensemble Chaconne, Americas Musicworks), and Take Me Out to the Ballgame (music of baseball 1858-1913, with mezzo-soprano D'Anna Fortunato, SONY Classical). Mr. Bloom can be heard on 15 CDs by The Aardvark Jazz Orchestra, including American Agonistes on Leo Records ("a stunning hour of music that is in turn beautiful, poignant and raucous" -- Billboard.com). He is featured on A Rite for All Souls (The Mark Harvey Group, Americas Musicworks, July 2020) presenting a long lost recording of the trail-blazing ensemble from 1971. He can also be heard on the acclaimed compilation CD The Boston Creative Jazz Scene 1970 - 1983 (Cultures of Soul, 2016).
http://www.americasmusicworks.com/peter-h-bloom.html
Mr. Bloom's composition Ablaze She Came In The Dream for flute, viola, and guitar was published by NSM in February, 2014; an adaptation for flute, cello, and guitar was created in May, 2016. From the Drawer for tenor or soprano, flute, clarinet, bassoon, and horn was published in November, 2015; a new edition for tenor or soprano and saxophone quartet was published in May, 2016.
In addition, NSM currently offers several arrangements and transcriptions by Mr. Bloom: The Wreck of the Hesperus (Hatton/Longfellow) for tenor, flute, clarinet, violin, viola, and double bass; Chaconne (Bach) for solo flute or alto flute; Der Hirt auf dem Felsen (Schubert) obbligato for alto flute; Romanza Andaluza (Sarasate) for flute, Fantaisie (Saint-Saëns) for flute, Quartet No.1 (Arriaga) for flute, and Sonata, Op.22 (Bauer) for alto flute.
The following CDs featuring Peter H. Bloom are available from NSM: Measure for Measure: the Music of Shakespeare's Plays; Amoroso: The Heartbeat of Brazil; Grand Concert! Dramatic Concert & Ballroom Music Heard in 19th Century America; Tea-Time Classics; A Rite for All Souls; and Exuberant Ellingtonia, Flute & Piano Sessions.