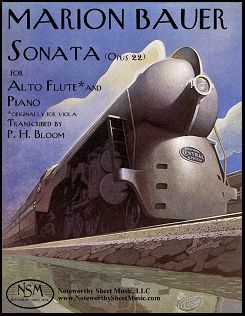 Sonata, Op.22, by Marion Bauer
Transcribed for Alto Flute by Peter H. Bloom (originally for viola)
Alto Flute Part, PDF $11.79
The following notes are excerpted, with permission, from the complete copyrighted foreword written by Peter H. Bloom for the Noteworthy Sheet Music edition of his transcription:
"The career of Marion Eugenie Bauer (1882-1955) as a composer, editor, writer, teacher, supportive colleague and mentor continues to assert a significant impact on the trajectory of American Music. It's mysterious that her legacy has been so rarely recalled and her music so infrequently performed in the six decades following her death. ... In 1906 she was the first of generations of American composers to study in Paris with the redoubtable Nadia Boulanger. ... We're fortunate that the composer crafted her own superb transcription of this sonata for clarinet and piano. In order to achieve the equivalent musical impact, her viola and clarinet versions differ in some places. The piano part, nevertheless, remains unchanged. Sometimes we've opted for the clarinet version, sometimes the viola version, and sometimes a conflation of the two. We have also made a few adaptive changes in tessitura, articulation, phrasing and dynamics to highlight the unique voice of the alto flute. Though execution may occasionally differ, the rhetorical and emotional shape of the work remains essentially the same."
P. H. Bloom, © January 7, 2014
We provide our alto flute transcription; the piano part is readily available as a free pdf download of the score from sources such as imslp.org/.
Alto Flute part, 9 pages of music; Total, 12 pages.
Preview