Featured Works - March, 2019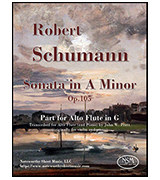 Schumann's Op.105 Sonata in A Minor was written for violin and piano, but the range and dynamics of the violin part, as well as its character, fit the alto flute's nature and capabilities beautifully. Check out John Pratt's transcription to see for yourself.
Anton Bernhard Fürstenau was the most famous virtuoso flutist in Germany and a composer of many flute works. NSM's edition of his Adagio et Rondo Brillant, Op.95, is an enhanced facsimile of the original print edition found in the Gassett Collection.
>