Featured Works - September, 2023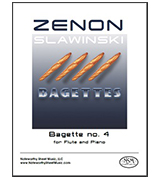 "Bagette no. 4" is from a set of four "Bagettes" written by Zenon Slawinski for his flutist wife, for the two of them to play together. The piece showcases the flute and has challenging moments for both players throughout. A rehearsal mp3 is available with purchase of the sheet music.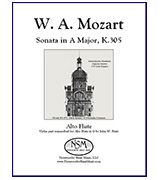 The Sonata in A Major, K.305 is one of the seven 'Mannheim' violin sonatas composed by Mozart in 1778. All seven works have been transcribed for alto flute by John W. Pratt, who describes K.305 as "far from routine" and "perhaps the most completely extroverted" of the lot.
>