Featured Works - January, 2019 - Happy New Year!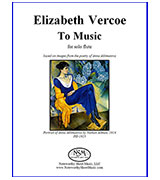 "To Music" by the highly acclaimed American composer Elizabeth Vercoe is a short, atmospheric solo for flute in four contrasting sections. The music is at times virtuosic, occasionally calling for multiphonics and other special effects. Check the listing for reviews and recordings of this fabulous piece.
Niels Gade's "4 Fantasiestücke", Opus 43, were composed for clarinet (or violin) and piano and first published in 1864. This is a beautiful piece on alto flute and John Pratt's sensitive transcription takes into account the differences in sonority and tone quality between the alto flute and the clarinet. Alto Flute Part.
>