Featured Works - November, 2020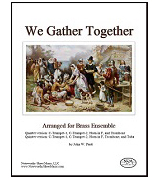 The hymn "We Gather Together" is the most popular song associated with the Thanksgiving holiday in the USA. Several years ago, NSM's chief arranger, John Pratt, created a wonderful arrangement of the Thanksgiving Hymn for brass ensemble. Our edition includes scores and parts for either brass quartet or brass quintet (4tet variation for two trumpets, horn, and trombone, and a 5tet variation adding tuba). We also offer a woodwind quintet edition. Happy Thanksgiving!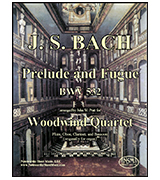 Among J. S. Bach's big organ works, BWV532 is unusually well suited to arrangement for woodwind quartet. We've recently revised our edition to include the Prelude as well as the Fugue. John Pratt's arrangement is scored for flute, oboe, B-flat clarinet, and bassoon; click the link to preview a page of the score and listen to an audio sample.
>