Featured Works - April-May, 2023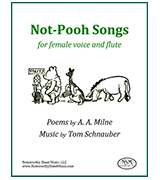 In "Not-Pooh Songs", Tom Schnauber sets to music six children's poems by A. A. Milne. Two editions are available, one for female voice and flute and a second for female voice and oboe. These pieces are highly effective, entertaining, and captivating; players and audiences will adore the Not-Pooh Songs.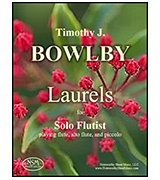 Timothy Bowlby composed Laurels for solo flutist playing flute, alto flute, and piccolo. Visit the Laurels listing page for additional information about the piece, plus a preview page of the music and a link to a recording of the premiere performance by Peter H. Bloom.
>