Featured Works - May, 2022
Originally for solo violin and either orchestra or piano, Dvořák's gorgeous Romance, Op.11, has just been arranged for flute choir, with solo flute accompanied by 4 concert flutes, 2 alto flutes, 2 bass flutes, and contrabass flute.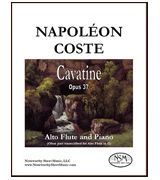 "Cavatine" was written for piano and oboe (or violin or flute) by the renowned 19th century guitarist and composer Napoléon Coste. The piece, transcribed by NSM for alto flute and piano, is melodic but lively, fun to play, and works really well on alto flute.
>