Featured Works - December, 2023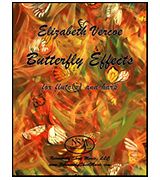 Written by the acclaimed American composer Elizabeth Vercoe for the duo "2" (Peter H. Bloom & Mary Jane Rupert), "Butterfly Effects" is a fascinating work of seven very differently-styled movements in which the flutist plays concert flute, alto flute, bass flute, and piccolo. Concert performances of this piece have been enthusiastically received.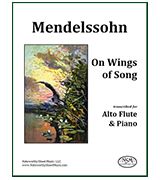 Mendelssohn's beautiful art song "On Wings of Song", based on the text by Heinrich Heine, became hugely popular and has been transcribed for numerous instruments. Noteworthy Sheet Music offers our own compelling version for alto flute and piano.
>