Featured Works - November, 2019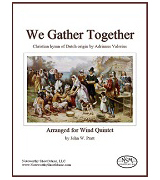 Spice up your Thanksgiving holiday with John Pratt's arrangement of "We Gather Together" for wind quintet. Our arrangements for either winds or brass lend new excitement and interesting harmonies to this favorite old Dutch hymn that was first published in 1626.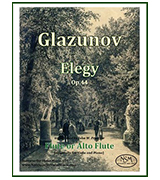 Alexander Glazunov's "Elegy", Op.44, was written for viola and piano in 1893. The viola melody is lovely and readily transcribed for other instruments; a new edition with parts created by J. W. Pratt for either flute or alto flute is now available from NSM.
>