Featured Works - June, 2021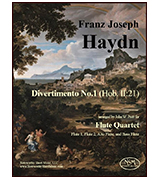 Haydn's Opus 2 Nos. 3 and 5 are string quartet arrangements of two divertimentos including also two horns. Their spirit and spiritedness suit them nicely to flute quartet, as does the distribution of activity. In addition, a flute quartet combines the unified timbre of a string quartet with the wind sound of the horns.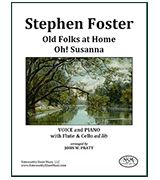 This edition provides a fresh take on two of the most famous American songs ever written, Stephen Foster's "Old Folks at Home" and "Oh! Susanna". Arranged by John W. Pratt, with a flair somewhat reminiscent of Ives in places. For voice and piano with flute and cello ad lib.
>