Featured Works - February, 2020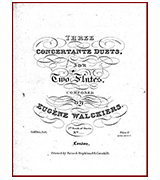 Check out the 5th Book of Duets by Eugène Walckiers, a masterful, inventive, and prolific composer and arranger of 19th century chamber music. "The duets, trios and quartets of Walckiers belong to the highest school of French art, and prove their composer to have been a man of real genius ... always elegant, charming, and scholarly" (Rockstro, Treatise on the Flute).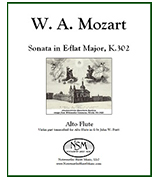 Mozart's charming and energetic Sonata in E-flat Major, K.302, has two movements, an Allegro and a rondo Andante grazioso. Written for violin and piano, the violin part has been lovingly and respectfully transcribed for alto flute by John W. Pratt.
>