Featured Works - July, 2019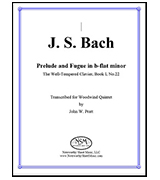 This Bach "Prelude and Fugue" from the Well-Tempered Clavier is beautifully adaptable for wind quintet. John Pratt's transcription is scored for Flute, Oboe, B-flat Clarinet, Horn, and Bassoon, with an alternate part for Alto Flute in place of Oboe.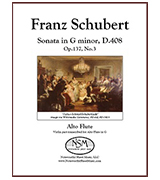 Schubert's Op.137 sonatas owe much to Mozart and are truly delightful. We have adapted the violin parts for alto flute and this month we feature the 3rd, "Sonata in G minor ".
>