Featured Works - May, 2021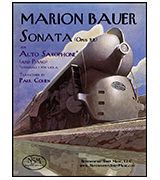 Renowned saxophonist Paul Cohen has created a thrilling transcription of Marion Bauer's Sonata, Op.22, written originally for viola (or clarinet) and piano. This is a superb, challenging also saxophone adaptation that will delight advanced players.
Canal is written in a free, self-referential style and uses the text of Roy Campbell's poem, written in 1920. The mood is idyllic and somewhat reminiscent of the contemporary musical language in use at that time. Each player has a brief ad lib section.
>