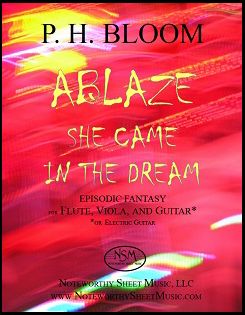 Ablaze She Came in the Dream, by Peter H. Bloom
Contemporary Composition for Flute, Viola, and Guitar (or Electric Guitar)
Flute, Viola, & Guitar Parts and Score, PDF $22.97
Flutist Peter H. Bloom is no stranger to Noteworthy Sheet Music or to our customers, as he has contributed several popular arrangements and transcriptions to our catalog and he also serves as an editorial consultant for NSM.
Now we are very pleased to offer this newly published (2014) and highly intriguing original composition by Mr. Bloom entitled Ablaze She Came in the Dream. The piece comprises eleven brief episodes written for the unusual trio combination of flute, viola, and guitar (or electric guitar). Ablaze is intended to serve as an interpretive vehicle for the performers and thus should be executed freely and expressively. The work is suitable for advanced players.
Click to access a recording of the premier performance of Ablaze which took place on November 21, 2014 in Boston, MA, as part of the Church of the Advent Library Concert Series. The performance features Peter H. Bloom on flute, Frank Grimes on viola, and Anastasiya Dumma on electric guitar.
Score, 23 pages; Flute Part, 11 pages; Guitar Part, 12 pages; Viola Part, 12 pages; Total, 66 pages.
Preview
====================================
We also offer a professionally-printed hard copy edition of Ablaze She Came in the Dream for $45.88 plus a $5.95 shipping and handling fee. Due to prohibitively high international shipping rates, we ship print editions only to addresses in the USA. Please use the Contact Us form to let us know which hard copy publication(s) you would like to purchase, along with your email contact information and USPS mailing address. We will then send you a PayPal invoice for the sale and, once we receive notice from PayPal that you have paid for the item(s), we will ship your music to the address provided for delivery in 7-10 business days.