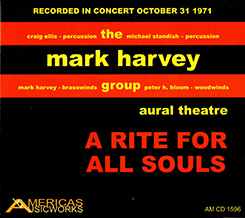 A Rite for All Souls
The Mark Harvey Group
Americas Musicworks CD $19.97
The Mark Harvey Group's A Rite for All Souls (available July 17, 2020 via Americas Musicworks) is a powerful and important historic recording. It reaches across nearly 50 years from a time of great social turbulence in the US to deliver a message of urgency, compassion and healing that resonates today.
Mark Harvey, best known as the creative force behind Boston's famed Aardvark Jazz Orchestra, has been a jazz activist, Methodist minister, trumpeter, and uncompromising explorer of new sonic territories for decades. His early quartet, featuring renowned woodwind player Peter H. Bloom and percussionists Craig Ellis and Michael Standish, takes listeners on an epic journey of discovery during a fully improvised 90-minute concert that encompasses serenity and turmoil, ravishing sounds and silence, poetry and melody.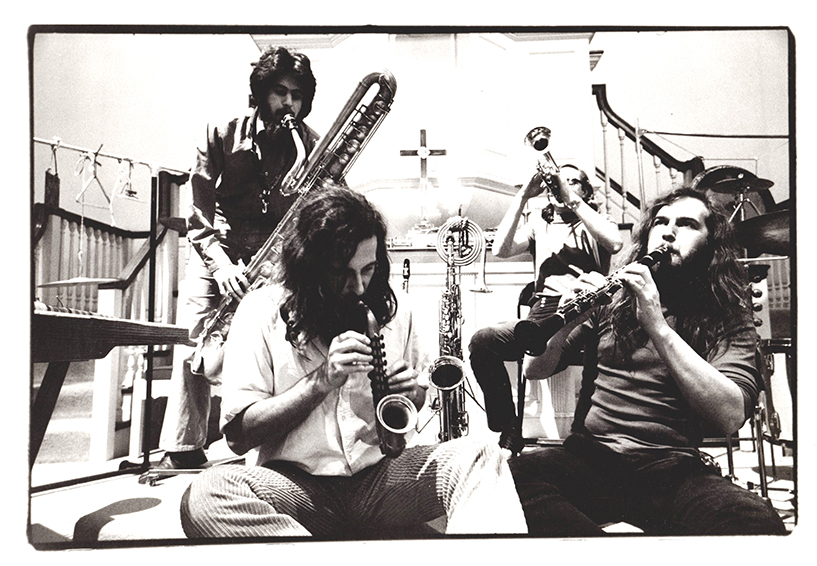 A Rite for All Souls is a long-lost concert recording, never previously heard. The two-CD set presents a single unedited performance by The Mark Harvey Group from October 31, 1971 in the sanctuary of Boston's Old West Church. The original reel-to-reel recording was re-discovered in 2018 and digitally re-mastered for release in 2020 on the Americas Musicworks label.
When The Mark Harvey Group performed A Rite for All Souls in 1971, they were mourning, protesting, and commemorating the tragic losses of the Vietnam war, and the lives lost or threatened by poverty, discrimination, and inequality. Their music was a celebration and meditation, honoring souls departed and souls surviving during that turbulent time in American culture. Today, we find ourselves in another dark and tumultuous time. A Rite for All Souls speaks for all of us, as we share outrage and compassion, sorrow and remembrance, spiritual healing and the rediscovery of a common humanity.
"Unfolding free form improvisations, ever new and bold aural landscapes" - The Boston Globe
"Most important is the level of exploration from calm to sweetly cacophonous as led by Harvey's trumpet and Peter Bloom's tenor sax. - The Vinyl District
Click to read Music Zoom's review, translated from the original Italian, re-posted on the NSM website. The CD has also received excellent reviews by Donald Elfman in The New York City Jazz Record, July 2020, by Troy Dostert in AllAboutJazz, and by Félix Amador in jazz ese ruido.
Check out a 2-minute video preview of the CD or view a video of the August 9, 2020 Zoom interview event with Mark Harvey and Peter H. Bloom talking about A Rite for All Souls with distinguished jazz writer Bob Blumenthal.
To order the A Rite for All Souls two-CD set from Noteworthy Sheet Music for $19.97, please use the Noteworthy Sheet Music Contact Us form to let us know which CD(s) you would like to purchase, along with your email contact information and shipping address. For orders shipping to addresses in the USA, a $4.99 shipping and handling fee will be added; for international orders shipping outside the USA, the fee is $14.99. We will send you a PayPal invoice for the sale and, once we receive notice from PayPal that you have paid for the item(s), Americas Musicworks will ship your CD(s) to the address provided, for delivery in 7-10 days.