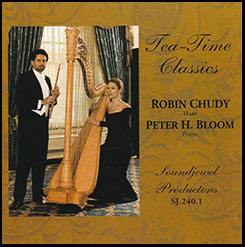 Tea-Time Classics
Robin Chudy, harp and Peter H. Bloom, flute
Soundjewel Productions, SJ.240.1, CD $14.97

This sachet of classic and exotic harp and flute music was inspired by the elegant ritual of afternoon tea. It is the ideal accompaniment to tea-time, or any time an infusion of relaxation and euphoria is needed. Previously based in Boston, harpist Robin Chudy played the harp daily for fourteen years at the Ritz-Carlton Hotel, where she developed a style suited to relaxed listening in the Tea Lounge and Cafe, and acquired a broad repertoire of classical and lighter compositions, many her own arrangements. Well-known to our website visitors, Peter H. Bloom is a consummate flutist, NSM editorial consultant, and NSM contributing composer and arranger.
Tea-Time Classics
To listen to audio clips of selected tracks, click on the mp3 icons beside the titles.

1. Menuet from l'Arlésienne Suite no. 2, Georges Bizet, 4:12


2. Morceau de Concours, Gabriel Fauré, 2:29


3. Suite of Waltzes from Tales from the Vienna Woods, Johann Strauss, 8:06
5. First Arabesque, Claude Debussy, 4:13
6. Entr'acte from Act III of the opera Carmen (arr: Quinto Maganini), Georges Bizet, 4:17


7. Romanza from Act I of the opera La Wally, Alfredo Catalani, 3:18
8. Sentimental Walk from Diva (Tr: Ed Meredith, arr: R. Chudy), Vladimir Cosma, 3:07
9. Danza Habanera, Th. H. Northrup, 3:04
10. I Dreamt I Dwelt in Marble Halls from The Bohemian Girl, M. W. Balfe, 4:27
11. Theme from Brideshead Revisited, Geoffrey Burgon, 2:44
12. Gnossienne no. 1, Erik Satie, 2:23
13. Gnossienne no. 2, Erik Satie, 1:25
14. Gnossienne no. 3, Erik Satie, 1:59
15. Rêverie, Claude Debussy, 3:30
16. Étude, Opus 10 no. 3 (excerpt), F. Chopin, 2:28
17. The Swan, Camille Saint-Saëns, 2:20
To order a copy of the Tea-Time Classics CD for $14.97, please use the Noteworthy Sheet Music Contact Us form to let us know which CD(s) you would like to purchase, along with your email contact information and shipping address. For orders shipping to addresses in the USA, a $4.99 shipping and handling fee will be added; for international orders shipping outside the USA, the fee is $14.99. We will send you a PayPal invoice for the sale and, once we receive notice from PayPal that you have paid for the item(s), Americas Musicworks will ship your CD(s) to the address provided, for delivery in 7-10 days.