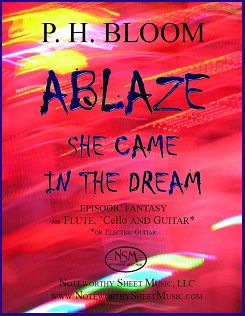 Ablaze She Came in the Dream, by Peter H. Bloom
Contemporary Composition for Flute, Cello, and Guitar (or Electric Guitar)
Flute, Cello, & Guitar Parts, and Score, PDF $22.97
Ablaze She Came in the Dream by flutist Peter H. Bloom was scored in its original version for flute, viola, and guitar. This intriguing piece comprises eleven brief episodes, which may be repeated any number of times. It is intended to serve as an interpretive vehicle for the performers and thus should be executed freely and expressively. Ablaze received its premier performance in November, 2014, in Boston as part of the Church of the Advent Library Concert Series and featured Mr. Bloom on flute, Frank Grimes on viola, and Anastasiya Dumma on electric guitar.
In the spring of 2016, NSM received a request for a cello version of Ablaze; we complied by creating, in collaboration with the composer, an adaptation for flute, cello, and guitar. Ablaze is not only an exciting piece to hear, it's fun to play as well. Both the viola and cello editions are suitable for adventurous, advanced players. Those wishing to purchase one of our Ablaze editions and then order an additional alternative viola or cello part for a small charge should use the Contact Us form to let us know; we'll make arrangements to accommodate your request.
Score, 23 pages; Flute Part, 11 pages; Guitar Part, 12 pages; Cello Part, 12 pages; Total, 66 pages.
Preview