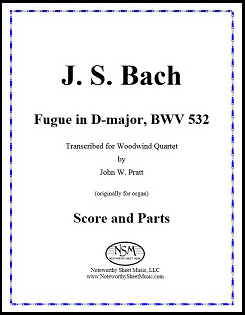 Fugue in D-major, BWV 532, by J. S. Bach
Transcribed for Woodwind Quartet by John W. Pratt
Score and Parts, PDF $21.25
Among the big Bach organ fugues, BWV 532 is unusually well suited to woodwind quartet. Written during Bach's early, carefree Weimar period (only four children to support), it is high-spirited and even witty. It benefits from having a separate sonority for each voice, especially when the countersubject interjects a perky comment in the subject's empty space. It has rapid passage work throughout, almost suggesting Mendelssohn — but his chamber music, not his organ music!
The woodwind quartet arrangement (for flute, oboe, B-flat clarinet, and bassoon) preserves Bach's four voices almost exactly.
Score, 11 pages; Parts, 20 pages; Total, 34 pages.
Preview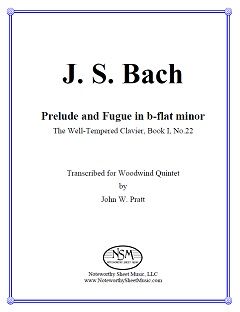 Prelude and Fugue, WTC Book I, No.22, by J.S.Bach
Transcribed for Woodwind Quintet by John W. Pratt, PDF $16.00
Though written for keyboard, this Prelude and Fugue from Book I of Bach's Well-Tempered Clavier is wonderfully adaptable to an instrumental quintet. The Prelude, with its serene harmonic pacing, reveals an almost Schubertian sublime beauty, and the magical counterpoint of the five-part fugue emerges crystal-clear. The challenge for the players, as well as the pleasure, lies in ensemble achievements, not technical difficulties in individual parts. Scored for Flute, Oboe, B-flat Clarinet, Horn, and Bassoon, with an alternate part for Alto Flute in place of Oboe.
Score, 6 pages; Parts, 2 pages each for Flute, Oboe (plus alternate Alto Flute), Clarinet, Horn, and Bassoon; Total, 20 pages.
Preview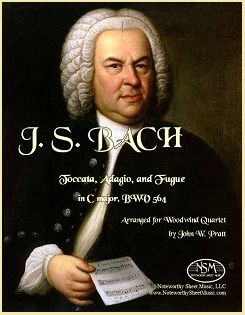 Toccata, Adagio, and Fugue in C major, BWV 564, by J. S. Bach
Arranged for Woodwind Quartet by John W. Pratt
Score and Parts for Flute, Oboe, Clarinet, & Bassoon, PDF $21.25
excerpted from JWP's © foreword to the edition:
Among J. S. Bach's big organ works, the Toccata, Adagio, and Fugue, BWV 564 is atypical in ways that make it unusually well suited to transcription for woodwind quartet. Unlike most, it has a middle movement, an Adagio with an elaborate and gorgeous melody which lies comfortably for flute and can benefit greatly from the shaded, nuanced dynamics and articulations that a solo flutist can provide. The other winds bring out Bach's beautiful voice-leading in the Adagio's two inner parts and its marching but not martial bass. The four-part Fugue is unusual, too—light and lighthearted, happily adaptable to woodwinds, with no call for great power and, rather than a climactic ending, a fading coda that defies convincing treatment on the organ. The exuberant Toccata starts with an extended manual solo passage ... mostly in 32nd notes, which ... I felt it would be more effective as a game of frequent handoffs between instruments than as a series of longer individual études. The pedal solo, mostly 16ths, calls for the extra weight of doubling.
Click to listen to a computer-generated audio sample from the end of the Toccata into the beginning of the Adagio.
Score, 17 pages; Flute part, 6 pages; Oboe part, 5 pages; Bb Clarinet part, 5 pages; Bassoon part, 4 pages; Total, 46 pages.
Preview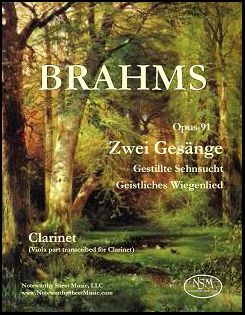 Two Songs, Op.91, by Johannes Brahms
Transcribed for Clarinet by John W. Pratt (part originally for viola)
Clarinet Part, PDF $5.99
The two chamber music songs of Brahms' Zwei Gesänge, Op.91 were composed specifically for his dear friends, the violinist/violist Joseph Joachim and the mezzo-soprano Amalie Schneeweiss, who were married in 1863. The songs (for alto, viola, and piano) were written over 20 years apart, but Brahms published them together as Op.91 in 1884.
"Gestillte Sehnsucht", which appears first in the Op.91 pairing, was actually written second, in 1884. The song sets the text of the poem by Friedrich Rückert (1788-1866). "Gestillte Sehnsucht" is a nature poem, filled with images of forests at sunset, gentle breezes, and twittering birds. Rückert is famous not only for his exquisite poems themselves but also for the great inspiration his work provided to numerous prominent composers, in addition to Brahms. "Geistliches Wiegenlied" (Sacred Cradle Song) was first composed in 1863-1864, and later revised. The viola opens with the melody of the medieval Christmas carol "Joseph, lieber Joseph mein." The singer has her own variation of the melody, and enters after the first stanza of the viola's carol. The song is a beautiful cradle-rocking lullaby, in 6/8 time.
It is said that the viola was Brahms' favorite stringed instrument, and the composer gave the viola a major role in both of these songs, allowing it to open both pieces before the singer enters. Clarinetists have long coveted these viola parts, and various performances have provided clear evidence that a successful outcome can be achieved with the substitution of a clarinet for the viola in Op.91. So when a clarinetist friend of ours asked us to create a transcription for him, we gladly obliged. Our edition of the clarinet part adapts the first song, "Gestillte Sehnsucht", for clarinet in A, and the second, "Geistliches Wiegenlied", for clarinet in Bb. The original piano score and voice part are in the public domain, readily available as free PDF downloads from IMSLP.org.
Clarinet part, 4 pages; Total, 8 pages.
Preview
Sonata in D Major, Op.5, No.1, by Giuseppe Maria Cambini
Transcribed for Flute and B-flat Clarinet by R.A.Evans
Score and Parts, PDF $7.99
Giuseppe Maria Cambini (1746-1825) was an Italian-born violinist and composer. He was one of the most prolific composers of his era, particularly of instrumental works, of which he wrote over 600, including numerous symphonies, 149 string quartets and over 100 trios, as well as ballets, operas, & oratorios. Flutists will know him for his concertos and extensive body of chamber works featuring the flute, including duos, trios, quartets and quintets.

Cambini wrote his Sonata in D Major, Op.5, No.1 for two flutes, and Noteworthy Sheet Music has published a re-notated version of the flute duet at the suggestion of flutist Richard A. Evans, who long ago obtained the music from the Library of Congress and believed it undeserving of its current obscurity. Aware of the scarcity of music composed for flute-clarinet duos, Mr. Evans also initiated this flute-clarinet edition of Cambini's Sonata in D Major by transcribing the flute-2 part for clarinet in B-flat. We at NSM agreed that the Op.5, No.1 duet should be made more readily available to present-day musicians and audiences, in both the flute-flute and flute-clarinet versions. Our editions provide both scores and parts, and incorporate articulation and dynamic edits supplied by Mr. Evans.
Score, 8 pages; Flute part, 4 pages; B-flat Clarinet part 4 pages; Total, 22 pages.
Preview