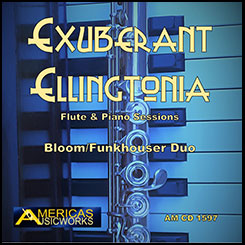 Exuberant Ellingtonia, Flute & Piano Sessions
Bloom/Funkhouser Duo
Americas Musicworks, AM CD 1597, $14.97
For almost 30 years, flutist Peter H. Bloom and pianist John Funkhouser have been performing together in a variety of venues and ensembles, including the internationally renowned Aardvark Jazz Orchestra. Their virtuosity, creativity and rapport as a jazz duo are on full display in the flute and piano sessions recorded here for Exuberant Ellingtonia. The CD showcases the Bloom/Funkhouser Duo's vibrant and imaginative interpretations of classics and rarities by Duke Ellington and his extraordinary collaborators. CD liner notes by Mark Harvey provide listeners with a fascinating guide to this stellar recording.
"one of those albums that we know are unique jewels…a work that explores the music of Duke Ellington in an intimate way, with the natural, and at the same time, so eloquent sound of flute and piano" – Félix Amador, Jazz, ese ruido, Spain
'Bloom's incisive flute, conjoined with Funkhouser's jaunty, swinging piano make for a fine partnership, one which brings some serious spark to these tunes…. Whether on the upbeat numbers like "Take the 'A' Train" and "Cottontail" or the more pensive "In a Sentimental Mood" or "Prelude to a Kiss," Bloom and Funkhouser bring characteristic style and brio to their renditions…. And while Bloom's ability to find the delightful mystery at the heart of "Isfahan" is exemplary, he does not shy away from taking it up a notch or two on "Take the 'A' Train," where his nimble solo is both stirring and technically impressive.' – Troy Dostert, AllAboutJazz.com, January 2022
Read another review of the Exuberant Ellingtonia CD in Textura, January 2022.
Bloom has been praised for "exquisite melody" (Jazz Improv), "amazing versatility" (ArtsFuse), and playing that is "wonderfully smoky and mysterious…the varying colors of the flutes provide a rich variety of timbres" (EarRelevant). Funkhouser has been called "masterful…maintaining a delicate balance of power and agility with an instinctive musical sense" (AllAboutJazz.com).
Here's a list of tunes on the CD: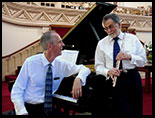 1. Rockin' in Rhythm: 4:07. By Duke Ellington, Irving Mills and Harry Carney
2. In a Sentimental Mood: 4:07. By Duke Ellington
3. Don't Get Around Much Anymore: 3:27. By Duke Ellington
4. Caravan: 3:33. By Juan Tizol, Duke Ellington
5. Chelsea Bridge: 3:39. By Billy Strayhorn
6. I Let a Song Go Out of My Heart: 3:54. By Duke Ellington
7. Cottontail: 2:18. By Duke Ellington
8. Prelude to a Kiss: 3:28. By Duke Ellington
9. I'm Beginning to See the Light: 3:50. By Duke Ellington, Johnny Hodges, and Harry James
10. Sophisticated Lady: 3:12 By Duke Ellington
11. Things Ain't What They Used to Be: 4:41 By Mercer Ellington
12. Take the "A" Train: 2:46. By Billy Strayhorn
13. Isfahan: 3:24 By Billy Strayhorn and Duke Ellington
14. Jump for Joy: 3:48. By Duke Ellington
For bios and audio/visual samples, please visit: http://www.americasmusicworks.com/bloom-funkhouser-duo.html
The official release date for the Americas Musicworks Exuberant Ellingtonia CD was January 14, 2022. Unfortunately, the Bloom/Funkhouser Duo "CD Release Tour" scheduled for January 20-30, 2022, through Alabama, Georgia, North Carolina, and Tennessee, has been postponed due to Covid precautions ... we'll post additional information when the tour has been rescheduled.
To order the Exuberant Ellingtonia, Flute & Piano Sessions CD for $14.97, please use the Noteworthy Sheet Music Contact Us form to let us know which CD(s) you would like to purchase, along with your email contact information and shipping address. For orders shipping to addresses in the USA, a $4.99 shipping and handling fee will be added; for international orders shipping outside the USA, the fee is $14.99. We will send you a PayPal invoice for the sale and, once we receive notice from PayPal that you have paid for the item(s), Americas Musicworks will ship your CD(s) to the address provided, for delivery in 7-10 days.