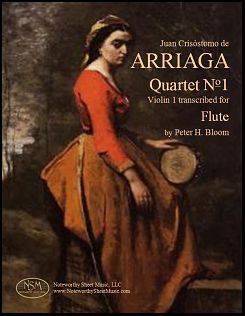 Quartet No.1, by Juan Crisóstomo de Arriaga
Violin 1 Transcribed for Flute by Peter H. Bloom
Flute Part, PDF $9.95
Peter H. Bloom wrote the following foreword (© 2014):
"Even among the most celebrated musical prodigies (Mozart, Mendelssohn, Pergolesi, and Varèse, for example) Juan Crisóstomo de Arriaga's genius and technical mastery are exceptional. This D-minor quartet, one of three string quartets written in 1824, is a work of structural brilliance, rhetorical grace, and elegant intensity.
Adapting music originally written for violin to flute is often relatively straightforward. Occasional octave reassignment and re-interpretation of double stops are typical changes. But when a flute assumes the voice of the first violin in the context of a string quartet, further accommodations are usually necessary. Dynamic balance, sonority, clarity of phrasing and consistency of articulation among the ensemble require a reassessment of many interpretive indications that are native to the violin. In this arrangement we have, as a rule, eliminated Portato indications; they are useful for violinists but merely distracting to the flutist. Articulation and phrasing marks have occasionally been changed, or eliminated, in instances where violin-orientated directions might mislead the flutist.
A final thought: The flutist proposing to replace the first violin in a string quartet of this beauty and integrity may meet resistance from string-playing colleagues. After a fair reading, however, they'll share your enthusiasm for Arriaga's Quartet in D-minor for Flute and Strings."
P. H. Bloom, Somerville, MA
29, May 2014 ©
We provide only the transcribed Flute part. The Violin 2, Viola, and Cello parts, as well as the original Violin 1 part, are in the public domain and available as free PDFs downloads from IMSLP.org.
Flute part, 9 pages; Total, 12 pages.
Preview