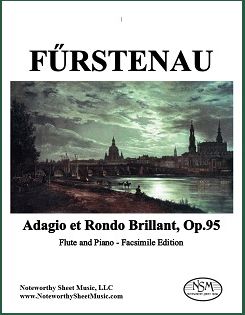 Adagio et Rondo Brillant, Op.95, by A. B. Fürstenau
Gassett Collection - Facsimile Edition by C.A.Vater/Noteworthy Sheet Music with a Foreword by Peter H. Bloom
Flute Part and Piano Score, PDF $12.00
Anton Bernhard Fürstenau (1792-1852) was among the most revered flutists of the 19th century. Following his appointment to the post of principal flute for the Royal Chapel at Dresden in 1820, Fürstenau became a valued colleague and close personal friend of the court's music director, Carl Maria von Weber. The influence of Weber's dramatic melodic gestures and edgy harmonic shifts can be heard in this passionately evocative Adagio et Rondo Brillant. An NSM favorite!
For additional information about the Gassett Collection, please see see our article An Introduction to the Gassett Collection.
Piano score, 12 pages; Flute part, 4 pages; Total, 20 pages.
Preview