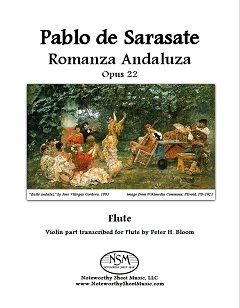 Romanza Andaluza, by Pablo de Sarasate
Transcribed for Flute (originally for violin) by Peter H. Bloom
Flute Part, PDF $6.66
'Pablo Sarasate was one of those rare violin virtuosos whose compositions, while designed to display instrumental athleticism, also expressed elegance, economy, imagination, a suave sensuality, and musical integrity. His music befits the sort of technique that, although acrobatic, is captivating rather than assaultive; evocative rather than provocative. It's with this spirit—to amuse, amaze, and engage the audience while providing a satisfying challenge to the performer—that I've adapted his Romanza Andaluza for flute.
Sarasate frequently used the musical material of folk songs and dances from his native Spain as a framework for his pieces. With the melody prescribed, the harmonies implied, and the style both familiar and exotic, he would paraphrase, embellish, and interpret as if to say "with the violin, we can do this..." Inspired by his source material, his methods, and his style, I propose that: With the flute, then, we can do this...' ― Peter H. Bloom, June 23, 2012 ©
Romanza Andaluza, Op.22 was written originally for violin and piano. Editions of the piano score (click to access) are available as free PDF downloads from online libraries of public domain music, such as imslp.org. We provide the Flute part - click below to preview p1.
Flute part, 4 pages; Total, 6 pages.
Preview