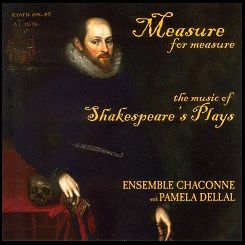 Measure for Measure: The Music of Shakespeare's Plays
Ensemble Chaconne with Pamela Dellal
Americas Musicworks CD $14.97
In this stellar recording, Ensemble Chaconne offers a rare and compelling view of the music Shakespeare's audiences would have heard, including music by the great composers of his day (Thomas Morley, Robert Johnson, John Dowland, and others), as well as popular tunes of the period.
"Excellently played with vitality and character...style and verve." —MusicWeb International
"Impressive" —Early Music (U.K.)
"Fascinating! For anyone interested in an historically informed perspective on the music of Shakespeare's plays, this disc is a must have!" —David Duff, Alabama Public Radio
"A rich musical experience" —The Concord Monitor
"Pleasingly evocative...as close a glimpse of the musical pleasures accorded Shakespeare's audiences as we are apt to experience." —Bostonia Magazine
Ensemble Chaconne's superb musicians are Peter H. Bloom (renaissance and baroque flutes), Carol Lewis (viola da gamba), and Olav Chris Henriksen (lute, theorbo and early guitar). The trio, founded in 1985, is dedicated to vivid, historically-informed performance of Renaissance and Baroque music on period instruments. Ensemble Chaconne brings exhilaration and theatrical intensity to an intimate chamber setting, playing repertoire that ranges from well-known masterpieces to recently discovered works. The group concertizes extensively, with tours in England, Ontario, and throughout the United States. For additional information, click the link above. Renowned mezzo-soprano Pamela Dellal has toured the United States, Europe, Japan, and Australia; details are available on the singer's webpage.
Measure for Measure: The Music of Shakespeare's Plays
Ensemble Chaconne: Peter H. Bloom, Renaissance Flutes; Carol Lewis, Viole da Gamba; Olav Chris Henriksen, Renaissance Lute;
with guest artist Pamela Dellal, Mezzo-Soprano
To listen to audio clips of selected tracks, click on the mp3 icons beside the titles. Total playing time: 60:21.
1. O Mistress Mine (Twelfth Night, 1599), Thomas Morley, 1:36

2. La Volto (Henry V, 1599), Thomas Morley, 0:52
3. It Was a Lover and His Lasse (As You Like It, 1599), Thomas Morley, 3:46
4. Walsingham/How Should I Your True Love Know (Hamlet, 1600), William Corkine, 3:40
5. Bonny Sweet Robin/Robin Is to the Greenwood Gone (Hamlet), Anon., 3:01
6. Go from My Window/Tomorrow is St. Valentine's Day (Hamlet), Anon., 4:00
7. Hark, Hark! the Lark (Cymbeline, 1609), Robert Johnson, 1:44
8. Take, O Take Those Lips Away (Measure for Measure, 1604), Anon., 2:04
9. The Willow Song (Othello, 1604), Anon., 3:51

10. Fortune My Foe (The Merry Wives of Windsor, 1600), Anon./John Dowland, 4:26
11. Callino Casturame (Henry V), Anon., 2:16

12. Greensleeves (Merry Wives), Anon., 3:29
13. Satyr's Dance (The Winter's Tale, 1609), Robert Johnson, 2:10

14. Lawne as White as Driven Snow (Winter's Tale), Anon., 1:09
15. Whoope Doe Me No Harme (Winter's Tale), Richard Sumarte, 1:09
16. Two Maids Wooing a Man (Winter's Tale), Robert Johnson, 1:13
17. Jog On (Winter's Tale), Richard Farnaby, 2:19
18. Come Live with Me and Be My Love (The Passionate Pilgrim, 1599), William Corkine, 3:20
19. If Music and Sweet Poetry Agree/A Fancy (Passionate Pilgrim), John Dowland, 4:20
20. Full Fathom Five (The Tempest, 1611), Robert Johnson, 1:35
21. The Tempest (Tempest), Anon., 1:21
22. Where the Bee Sucks, There Suck I (Tempest), Robert Johnson, 1:14
23. The First Witches' Dance (The Queen's Masque, 1609), Robert Johnson, 1:25
24. The Second Witches' Dance (Queen's Masque), Robert Johnson, 1:06
25. Come Away, Hecate (The Witch, 1616), Robert Johnson, 3:04
To order the Measure for Measure: The Music of Shakespeare's Plays CD for $14.97, please use the Noteworthy Sheet Music Contact Us form to let us know which CD(s) you would like to purchase, along with your email contact information and shipping address. For orders shipping to addresses in the USA, a $4.99 shipping and handling fee will be added; for international orders shipping outside the USA, the fee is $14.99. We will send you a PayPal invoice for the sale and, once we receive notice from PayPal that you have paid for the item(s), Americas Musicworks will ship your CD(s) to the address provided, for delivery in 7-10 days.

============================================================================
Those interested in booking Ensemble Chaconne may use the Contact page on the Americas Musicworks website, or email AMW director Rebecca DeLamotte at This email address is being protected from spambots. You need JavaScript enabled to view it.. Ensemble Chaconne has performed at London's National Gallery; Atlanta's famed Spivey Hall; the Royal Shakespeare Company's Residency at Davidson College; the venerable Edison Theatre in St. Louis; The National Gallery of Canada in Ottawa; The Bach Festival Society of Winter Park Florida; Boston's legendary Jordan Hall; and The Yale Center for British Art, to name a few.