Walter A. Finlayson (1919-2000)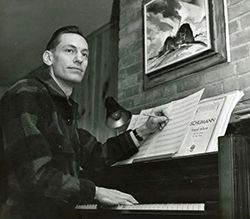 Biography contributed in Sept. 2017 by Gale Finlayson, daughter of the composer:
Born in Burlington, VT in 1919 (the year of the great influenza epidemic, which took the life of his father), Walter spent his childhood in New Britain, CT with his new "father." There he showed a decided interest in music; he learned drumming in the Boy Scouts and experimented with piano, thanks to a kind neighbor. He learned to twirl a baton with exceptional dexterity, and after the family moved to Katonah, NY, in 1934, he won many talent shows for this skill. Still in high school, he organized a dance band called "The Astronauts" with youth from local high schools. Together with a jazz-loving buddy, he attended many dance band performances in the area, in CT and as far down county as Birdland. It has been claimed that when Walt was only 16 the great Cab Calloway invited him to go on tour with his all-black band; my grandmother declined that offer...
As soon as he graduated from Ithaca College, he enlisted in the US Naval Reserve and was stationed at Newport, RI, while his ship, the ALASKA, was being built. At Newport, he not only played in the USNR dance band, seated next to the already-famous Artie Shaw, but also served as rehearsal conductor for the band and even led a 300-voice military chorus. While aboard ship—as a practical joke—he arranged the Marines' Hymn as a snazzy jazz number!
After the war, he returned to his home town of Katonah where he was offered the job of music teacher at his old high school; this entailed conducting the band, chorus and orchestra. Naturally, with so many eager students at his disposal he began to compose for those various groups. An avid music educator, he inspired many students over the decades to pursue a career in music. When John Jay High School was formed to meet the demands of two growing school populations, he moved to the new campus in 1956 to conduct the band and give music lessons. He remained there until he retired in 1974, but not before he had created a student Dance Band which performed at dances and assemblies to great acclaim. He even collaborated with the head coach to have a class in the Dances of the Big Band Era. CBS news from NYC sent up a crew one year to film students dancing the jitterbug in the gymnasium during their lunch break. Walter remained a Jazz fan all his creative life and sought to inspire successive generations to be the same!
----------------------------------------------------------------------------------------------
http://finlaysonfiles.com/
Currently NSM offers two works by Walter Finlayson, Moon Shadows for winds and percussion, published in September, 2017, and 3 Pagan Dances for percussion ensemble, published in December, 2017.