Richard Nelson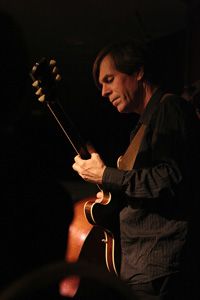 Active as a classical and jazz composer, Richard Nelson has received fellowships and awards from the MacDowell Colony, Yaddo, the Charles Ives Center, Virginia Center for the Creative Arts, the BMI Jazz Composers Workshop and the University of Maine. His compositions have been performed by Speculum Musicae, ALEA III, and the Charleston Symphony Orchestra at venues including Piccolo Spoleto, Miller Theatre at Columbia University, Indiana University, SUNY Buffalo, and the College Music Society National Convention.
A professional jazz guitarist as well, he combines performance and composition in works for the Aardvark Jazz Orchestra, his own Imaginary Ensemble, and other groups. Nelson studied composition at Indiana with Donald Erb (MM) and at Columbia with Mario Davidovsky (DMA). He was Visiting Artist at the University of Cape Town in 2004. Dr. Nelson is Professor of Music and head of the Sonic Arts and Composition Concentration at the University of Maine at Augusta.
Dr. Nelson has been awarded a prestigious MacDowell residency for three weeks during the 2015 spring semester.
Photo by Joe Harrington.
http://www.richardnelsonmusic.com/
NSM has published Dr. Nelson's composition Play of Light for flute (doubling piccolo & bass flute) and harp.