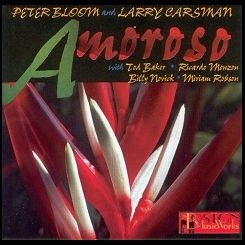 Amoroso: The Heartbeat of Brazil
Peter H. Bloom (flute, alto flute, bass flute and piccolo) and Larry Carsman (guitar), with guest artists Tod Baker (bass), Ricardo Monson (percussion), Billy Novick (saxophone, clarinet), & Miriam Rabson (violin)
Boston Musicworks CD $14.97
Amoroso celebrates the exotic legacy of the Brazilian chorino. Works by such venerated composers as Waldyr Azevedo, Ernesto Nazareth and Pixinguinha evoke the heat of the equatorial sun, the steamy cover of rainforest, and the pulsing rhythm of the ocean. The CD is a luscious and stirring collection of Brazilian chorinos infused with the musical tongues of Africa, South America and the Western Mediterranean.
"lush, romantic and thrilling...captures the magic of Brazil" —Wilson Melo, Reuters, San Paulo
Amoroso features a star-studded cast of musicians:
Peter H. Bloom, flutes, concertizes in the U.S. and abroad, and is featured on more than 40 recordings. He is a veteran with the world-renowned Aardvark Jazz Orchestra (44th season) and has appeared with jazz luminaries Charles Neville, Jaki Byard, Sheila Jordan, Geri Allen, Mark Harvey, and others. All About Jazz praised his "hip, jazzy flute work," while Jazz Improv hailed his "exquisite melody," and Arts Fuse wrote, "His solos on flute and amplified flute are always highlights of a performance."
Larry Carsman, guitar, has performed blues, calypso, reggae, classical, jazz and swing, from the concert halls of Boston to the nightclubs of Detroit to the pubs and posh hotels of the Caribbean. He was lead guitarist and co-founder of the James Montgomery Blues Band, and has appeared with legend Bonnie Raitt and Boston's famed Bo Winiker Orchestra, among others.
Billy Novick, saxophone & clarinet, has toured North America, Europe and Asia, and has made spotlight appearances at numerous jazz festivals, including the Kool, Newport, Edinburgh, Brecon (Wales), Marsiac (France), and Breda (Netherlands). He has released 17 albums as leader or co-leader, and appears as a sideman on more than 250 recordings. The Washington Post praised his "velvety jazz," while Downbeat hailed his "sincerity...elegance…a lovely celebration of tunefulness."
Mimi Rabson, violin, praised for "great chops and an attitude to match" (The Washington Post), has recorded with Itzhak Perlman and performed with the New England Ragtime Ensemble, the Klezmatics, Deborah Henson-Conant, and the Pablo Ablanedo Octet. She has appeared at Avery Fisher Hall, Lincoln Center Out of Doors, Wolf Trap, the Place des Arts in Montreal, and other venues. She teaches at Berklee College of Music.
Ricardo Monzon, percussion, has performed with the Boston Pops, Aretha Franklin, Mario Frangoulis, Donna Summer, Stanley Clark, Lenny White, Mary Wilson of the Supremes, the Greg Hopkins Big Band, and the Orquesta Sinfonica de Guatemala, to name a few. A sought-after studio musician, Ricardo can be heard on the Grammy nominated "Latin Album" with the Boston Pops. He teaches at Berklee College of Music.
Todd Baker, bass, played for two years with The Artie Shaw Orchestra and led bands on the Carnival Cruise Lines. He has played with Rosemary Clooney, Cab Calloway, The Four Freshman, and The Woody Herman Band, among others.
Amoroso: The Heartbeat of Brazil
To listen to audio clips of selected tracks, click on the mp3 icons beside the titles. Total playing time: 54:27.
1. Andre De Sapato Novo, André Victor Corrêa (2:58)


2. Madrigal, Waldyr Azevedo (4:31)
3. Brejeiro, Ernesto Nazareth (2:59)
4. Amoroso, Anibal A. Sardinha (6:15)
5. Curare, Alberto de Castro Simões da Silva (Bororó) (3:32)
6. Pedachinhos Do Céu, Waldyr Azevedo (3:09)


7. Seresta/Sentido/Seresta, Waldyr Azevedo (5:50)


8. Flor Do Cerrado/Hora de Sonhar, Waldyr Azevedo (4:50)
9. Segura Ele, Pixinguinha and Benedito Lacerda (3:13)
10. Bicho Carpentiero, A. Reale (3:42)
11. Chara, Baden Powell (1:57)
12. Alma, Waldyr Azevedo (3:50)
13. Waldirizando, Waldyr Azevedo (3:53)


14. Fazendo Onda, Waldyr Azevedo (2:52)

To order the Amoroso: The Heartbeat of Brazil CD for $14.97, please use the Noteworthy Sheet Music Contact Us form to let us know which CD(s) you would like to purchase, along with your email contact information and shipping address. For orders shipping to addresses in the USA, a $4.99 shipping and handling fee will be added; for international orders shipping outside the USA, the fee is $14.99. We will send you a PayPal invoice for the sale and, once we receive notice from PayPal that you have paid for the item(s), Americas Musicworks will ship your CD(s) to the address provided, for delivery in 7-10 days.