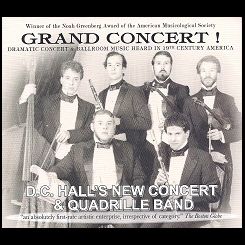 Grand Concert! Dramatic Concert & Ballroom Music Heard in 19th Century America
D.C. Hall's New Concert and Quadrille Band
Americas Musicworks CD $14.97
Peter H. Bloom, flute and piccolo; Steven Jackson, clarinet; James H. Johnston, violin; Patrick Jordan, viola; Henry Peyrebrune, double bass; and Kevin M'Dermott, tenor soloist.
In this critically acclaimed recording, D.C. Hall's New Concert and Quadrille Band reprises the repertoire, style, and spirit of the illustrious Hall Brothers' Band that were acclaimed from Maine to Louisiana from the late 1840s through the 1870s. The CD transports the listener to 19th-century America with wide-ranging repertoire that was popular at the time: reductions of operatic and symphonic works, chamber works, dramatic scenas, music for theatrical and popular dance, and music hall favorites.
Renowned for exquisite musicianship, vivid performances, and superb research, the new Hall's Band was awarded The American Musicological Society's Noah Greenberg Award in 1990.
Grand Concert! was recorded on the stage at Mechanics Hall, Worcester, Massachusetts, upon the very stage where the original Hall's Brothers' Band concertized. The CD was recorded and edited by legendary award-winning engineer Bud Graham.
"An absolutely first-rate artistic enterprise, irrespective of category" —The Boston Globe
"Clean playing and careful ensemble are the keynote here, and the D.C. Hall Band meets the challenge with precision and spirit." —Gramophone Magazine
"Mindbendingly wonderful." —John Heiss, New England Conservatory of Music
"One of a kind and very well recorded." —The Audio Critic Magazine
Grand Concert! Dramatic Concert & Ballroom Music Heard in 19th Century America
To listen to audio clips of selected tracks, click on the mp3 icons beside the titles. Total playing time: 69:38. Note that NSM has published the sheet music for The Wreck of the Hesperus, and an audio clip of that track may be heard by clicking the link in the sheet music listing.
1. Overture to Die Felsenmuehle, K. G. Reissiger, Arr: Th. Ryan (8:17)

2. The Village Blacksmith, W. H. Weiss, H. W. Longfellow, Arr: M'Dermott (4:47)
3. I'll Sing Thee Songs of Araby from 'Lalla Rookh', Frederick Clay, W. G. Wills, Arr: Jordan (3:48)

4. The Peri Waltzes, G. W. Friedrich (5:54)
5. Come into the Garden, Maud! M. W. Balfe, Alfred, Lord Tennyson, Arr: Bloom (4:00)

6. Romanza Siciliana, C. M. von Weber, Cadenza: A. B. Furstenau, Arr: Jordan (4:34)
7. The Wreck of the Hesperus, J. L. Hatton, Longfellow, Arr: Bloom (8:03)
8. Vivace Assai (from Symphony No. 74 in Eb), F. J. Haydn, Arr: Anon. (early 19th c.) (6:43)
9. I Cannot Sing the Old Songs, 'Claribel', Arr: M'Dermott (3:48)
10. Mazurka Polka, "M' likely J. W. Moore (1:38)
11. Zingara Mazurka, Anon. (1:49)
12. Redowa Waltz, Anon., Arr: Moore (3:10)
13. Wrecker's Daughter, J. G. von Riess (1:13)
14. Hero's Quickstep, Henry Schmidt (2:03)
15. Molly Bawn from 'Il Paddy Whack in Italia', S. Lover, Arr: M'Dermott (3:59)
16. The Five Steps Waltz, Chr. Nolff, Arr: Johnston (2:47)
17. Goodbye, Sweetheart, Goodbye!, Hatton, Arr: M'Dermott (2:37)
To order the Grand Concert! CD for $14.97, please use the Noteworthy Sheet Music Contact Us form to let us know which CD(s) you would like to purchase, along with your email contact information and shipping address. For orders shipping to addresses in the USA, a $4.99 shipping and handling fee will be added; for international orders shipping outside the USA, the fee is $14.99. We will send you a PayPal invoice for the sale and, once we receive notice from PayPal that you have paid for the item(s), Americas Musicworks will ship your CD(s) to the address provided, for delivery in 7-10 days.