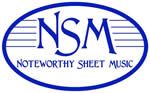 Noteworthy Sheet Music provides beautifully edited, downloadable parts and scores of unusual transcriptions and arrangements, composers' new works, and rare historical music in facsimile editions. We offer selected, previously unpublished contemporary music by distinguished American and British composers. And we publish new editions of otherwise unavailable 19th century scores and parts contained in a highly important collection compiled originally by Henry Gassett, Jr., and now held privately.
Our specialty is music for flute, alto flute and other members of the flute family; we also provide music for other instruments.
Our goal at Noteworthy Sheet Music is to expand available repertoire by providing on-line access to high-quality scores and parts, at reasonable cost. Musicians' concerns are of primary importance to us. When we create our editions, we strive for accuracy, clarity, and convenient formatting. New publications are uploaded to the NSM website regularly, so please visit us again soon. We welcome your comments and suggestions.