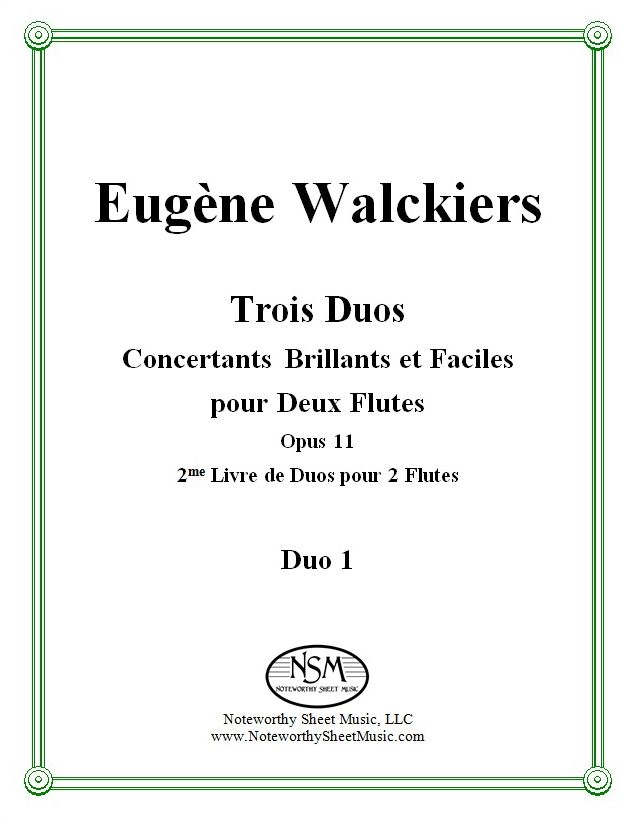 Trois Duos Concertants Brillants et Faciles pour Deux Flutes, by Eugène Walckiers
Gassett Collection - New Editions by C.A.Vater/Noteworthy Sheet Music, with a Foreword by Peter H. Bloom
2me Livre de Duos pour 2 Flutes, Opus 11
Duo 1: Flute 1 Part, Flute 2 Part, and Score PDF $10.50
Duo 2: Flute 1 Part, Flute 2 Part, and Score PDF $15.00
Duo 3: Flute 1 Part, Flute 2 Part, and Score PDF $16.50
Eugène Walckiers studied composition at the Paris Conservatoire with Anton Reicha and became a masterful, inventive, and prolific composer and arranger of 19th century chamber music. Both his original compositions and his arrangements are deeply significant in their expression of a particular, highly developed aesthetic approach. Walckiers' 2me Livre de Duos pour 2 Flutes, Opus 11, was dedicated to his friend Théodore Baltazaro and comprises three duets of three movements each. NSM has re-notated all of the Opus 11 duets using a modern music composition software program.
A review written by Katherine Borst Jones was published in the September, 2013 issue Flute Talk magazine. "The publication contains extensive notes and material on the composer. The second duet is great material for sightreading as well as studying the 19th century style of composition. Printed as flute 1 and flute 2, separately, the copy is clear and easy to read." Click to read the full review.
For additional information about the Gassett Collection, please see see our article An Introduction to the Gassett Collection.
Duo 1: Fl 1 & Fl 2 Score, 14 pages; Flute 1 part, 9 pages; Flute 2 part, 9 pages; Total, 37 pages. $10.50
Preview Duo 1

Duo 2: Fl 1 & Fl 2 Score, 20 pages; Flute 1 part, 11 pages; Flute 2 part, 11 pages; Total, 47 pages. $15.00
Preview Duo 2

Duo 3: Fl 1 & Fl 2 Score, 25 pages; Flute 1 part, 11 pages; Flute 2 part, 11 pages; Total, 54 pages. $16.50
Preview Duo 3
===========================================================
For those who would prefer to purchase a professionally-printed hard copy of this piece, rather than the PDF download, our print edition of Duo 3 from the 2nd Book of Duos for Two Flutes, Op.11 by Eugène Walckiers is available directly from NSM for $28.05 plus a $5.95 shipping and handling fee to addresses in the USA. Please use the Contact Us form to let us know which hard copy publication(s) you would like to purchase, along with your email contact information and USPS mailing address. We will then send you a PayPal invoice for the sale and, once we receive notice from PayPal that you have paid for the item(s), we will ship your music to the address provided.