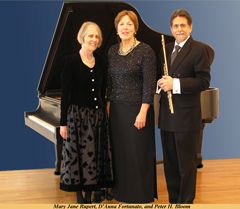 Der Hirt auf dem Felsen, Op.129, by F. Schubert
Obbligato Transcribed for Alto Flute in G by Peter H. Bloom
Alto Flute Part, PDF $5.99
In the preface to his transcription, Mr. Bloom writes: "In terms of color, nuance, expression, dynamics, and tessitura the obbligato works exquisitely on the alto flute. Theobald Boehm (1794-1881) designed our first modern alto flute in 1847. Had Schubert (born in 1797) survived to hear it, I have no doubt that he would have made the alto flute an essential part of his armory of orchestration. .... Der Hirt auf dem Felsen is very effective, also, in a purely instrumental arrangement for flute (taking the vocal line) and alto flute obbligato. It's an ideal didactical vehicle for coaching the developing flutist in the art of rhetorical performance as well as a splendid concert/recital piece."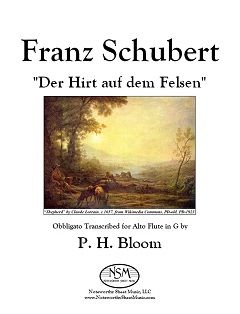 The premiere of Schubert's The Shepherd on the Rock, with obbligato transcribed for alto flute, was performed by D'Anna Fortunato (Mezzo-Soprano), Peter H. Bloom (Alto Flute), and Mary Jane Rupert (Piano) during a concert at the Gibson Theatre in Elmira, NY, on November 3, 2009, as part of the Elmira College Encore Series.
"Flutist Peter Bloom has done an invaluable service to Schubert and to concert singers by providing this charming arrangement, for alto flute, of the original clarinet obbligato to Der Hirt auf dem Felsen. I've performed it in this version on several occasions and find that the flute timbre is alluring. It's so easy to blend with and respond to the alto flute! I believe that, had it been possible, the composer, himself, would have truly enjoyed this arrangement at a Schubertiade performance of his own." - D'Anna Fortunato
We provide our alto flute transcription of the obbligato part, originally for clarinet. The voice and piano parts are readily available as a free pdf download of the score, from sources such as imslp.org/.
Alto Flute part, 4 pages of music; Total, 8 pages.
Preview