Zenon Slawinski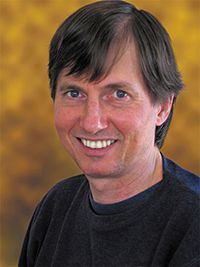 Zenon Slawinski studied music theory and composition at the University of Michigan with Leslie Bassett, William Bolcom, and William Albright. He also studied Campanology with Hudson Ladd. He excelled at performance on the university carillon and later played the carillon regularly at the National Zoo in Washington, DC. After graduating with honors he pursued a career both in music and graphic design.
He was co-music director for the Peabody and Ohio State award winning Children's Radio Theatre program and also produced a half-hour radio program on creative writing for Pacifica Broadcasting.
During this time Mr. Slawinski scored numerous independent and industrial films and films for the Smithsonian Institution that aired at different Smithsonian museums and on PBS. He wrote the music to the popular political talk show The John McLaughlin Group.
In his visual design work he created filmography and title sequences for the Academy Award winning documentary film, The Stone Carvers, and nominees, With Babies and Banners: The Story of the Women's Emergency Brigade and Of Time, Tombs, and Treasure: The Treasures of Tutankhamen. His logo designs have been recognized internationally in such publications as The Logo Lounge series of books.
Mr. Slawinski was a founding partner of a multimedia production company and recording studio working in the early interactive days on educational and entertainment music projects in the CDi and CD-ROM formats many of which won numerous awards. Among the many products they produced, "Children's Musical Theatre" was the first animated CDi title released where a child could select a song, select different lyrics and choose from three different styles; classical, rock, and country, then watch the animated results. Other titles included the Private Lesson Series of discs for Hal Leonard Publishing on learning a musical instrument. They even produced a how to play rock guitar disc with Richie Sambora from Bon Jovi called Richie Sambora: Interactive Guitar.
Mr. Slawinski has created backing tracks to educational assets for the online educational company, k12. With them he recorded a series of children's songs with vocalist Lena Seikaly, one of Washington, DC's preeminent jazz singers.
More recently Mr. Slawinski has been working with the DreamDog Foundation to produce backing music tracks to various children's music videos.
Many self-produced collections of his music can be heard at zenonez.bandcamp.com.
Zenon Slawinski's visual design site is zenarts.biz.
NSM offers Mr. Slawinski's Bagette no. 4 and Cookies for flute and piano, and 5 Dessert Rounds for two flutes.