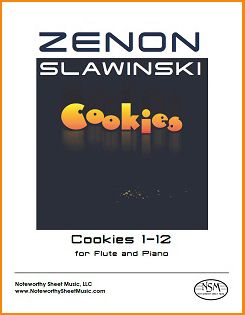 Cookies, by Zenon Slawinski
Contemporary Composition for Flute and Piano
Flute Part and Piano Score, PDF $24.50
From the preface by Zenon Slawinski:
The Cookies came about because my wife and I had been exploring the various compositions and arrangements available for flute and piano and I felt that we needed something new for our time and our audience. We live in a constantly changing world yet we love to hang our hat on the past, especially when it comes to music. I wanted to create a set of pieces that would not only be enjoyable for the listener but provide the players with a high level of satisfaction.
These pieces range in difficulty from the rather simple and easy to play (Cookies 1, 2, 4, 7), to the intermediate (Cookies 5, 8, 9, 11), and to the more challenging (Cookies 3, 6, 10, 12).
A special note about Cookie No. 5. This piece was influenced by the Jazz tunes in the popular series of Real Books which follow a common practice in today's "chart" or "lead sheets" where the melody line is written out and chords are marked for the accompaniment to play. This gives a lot of freedom initially to the piano. As the flutists becomes more familiar with their part, I would encourage them to get off the page and try some of their own lines.
I purposely gave few performance markings so that players can create their own. Interpret these freely and have fun.
Zenon Slawinski, September 17, 2014
You may listen to some short audio samples of the Cookies, recorded on the composer's Yamaha MOTIF ES with the sampled piano and flute sounds found in the instrument.
Customers who purchase the sheet music to Cookies are entitled to free rehearsal mp3's of the piano tracks with which the flutist may play along.
Cookie 9 is a flute solo; the piano is tacet.
Cookies 1 to 12, complete edition: Piano score, 60 pages; Flute part, 21 pages; Total, 84 pages, PDF Price $24.50.
Preview
For those who would prefer to buy a subset of the Cookies, rather than all 12, we offer three smaller editions:
Cookies 1,2,4,7: Piano Score, 15 pages; Flute part, 5 pages; Total 24 pages; PDF Price $9.45
Cookies 5,8,9,11: Piano Score, 15 pages; Flute part, 7 pages; Total 28 pages; PDF Price $9.45
Cookies 3,6,10,12: Piano Score, 30 pages; Flute part, 9 pages; Total 42 pages; PDF Price $18.90
===========================================================================
US customers may purchase professionally-printed hard copies of the complete edition of Cookies for $41.65 plus shipping and handling. Please use the Contact Us form to let us know which sheet music you would like to purchase, along with your contact information and your USPO mailing address.