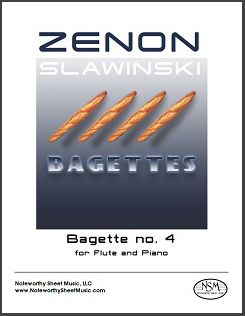 Bagette no. 4, by Zenon Slawinski
Contemporary Composition for Flute and Piano
Flute Part and Piano Score, PDF $16.99
Zenon Slawinski studied music theory and composition at the University of Michigan with Leslie Bassett, William Bolcom, and William Albright. He also studied Campanology with Hudson Ladd. After graduating with honors he pursued a career in both music and graphic design. Mr. Slawinski was co-music director for the Peabody and Ohio State award winning Children's Radio Theatre program, and scored numerous independent and industrial films and films for the Smithsonian Institution that aired at Smithsonian museums and on PBS. He wrote the music to the popular political talk show The John McLaughlin Group. Mr. Slawinski was a founding partner of a multimedia production company and recording studio working in the early interactive days on educational and entertainment music projects in the CDi and CD-ROM formats, many of which won numerous awards. For more details of Zenon Slawinski's biography, please see the Composers section of the NSM website.
Bagette no. 4 is from a set of four Bagettes written by Zenon Slawinski for his flutist wife, for the two of them to play together. The piece showcases the flute and has challenging moments for both players throughout. The spelling of "bagette" is intentional. The piece opens and closes with a quick ostinato in ¾ in the piano part that lays the foundation for the feel of the entire Bagette. The second section is more pensive and contemplative, with the piano taking the lead initially. The next section is bold and in a new key - B major - and here the flute and piano engage in a playful interaction. The composer intends for the players to put their own spin on the piece and interpret the music freely.
You may also listen to audio of the piece, recorded on the composer's Yamaha MOTIF ES with the sampled piano and flute sounds found in the instrument. Click to listen
Customers who purchase the sheet music to Bagette no. 4 are entitled to a free rehearsal mp3 of the piano track with which the flutist can play along.
Piano score, 15 pages; Flute part, 7 pages; Total, 26 pages.
Preview