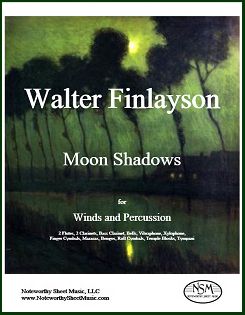 Moon Shadows, by Walter A. Finlayson
Contemporary Composition for 2 Flutes, 2 Clarinets, Bass Clarinet, and 9 Percussion Instruments
Score and Parts, PDF $14.25
Walter Finlayson (1919-2000) was an American composer, musician, educator, and music innovator, with nearly twenty original compositions and some forty arrangements to his credit. While serving in the navy, he played saxophone and clarinet in the US Naval Reserve dance band, seated next to the great Artie Shaw. Finlayson's ASCAP output includes music for band, dance band, orchestra, voice, and chorus. His compositions and arrangements have been published by Boosey & Hawkes, EB Marks, Boston Music, and Mercury Music, and performed by major college marching band programs. One of his best-known compositions is I Had a Premonition, which was written for voice and piano, but which was later arranged for the Jimmie Lunceford Orchestra, one of the preeminent bands of the swing era. A recording of the tune can be heard on The Jimmie Lunceford Collection: 1930-47 compact disc released in 2014 on the Fabulous label, and on YouTube.
Noteworthy Sheet Music's chief editorial consultant Peter H. Bloom received Finlayson's previously-unpublished score for Moon Shadows from the composer's daughter, and we were impressed with its quality and sophistication. For a piece written in the late 1930's or early 1940's, as Gale Finlayson recollects (the score is not dated), Moon Shadows seems remarkably ahead of its time. The work is scored for two flutes, two clarinets, bass clarinet, bells, vibraphone, xylophone, finger cymbals, maracas, bongos, roll cymbals, temple blocks, and tympani. We notated our modern edition of the piece as faithfully as possible based on the hand-written Finlayson score; our edition of Moon Shadows includes both score and parts. We at NSM are pleased to aid in the re-discovery of some of Walter Finlayson's works; for additional information about this interesting composer, please visit the Our Composers page under About Us.
Score, 19 pages; Parts for Flute-1, Flute-2, Clarinet-1, Clarinet-2, Bass Clarinet, Bells, Vibraphone, Xylophone, Finger Cymbals and Maracas, Bongos and Roll Cymbals, Temple Blocks, and Tympani, 1 page each; Total, 34 pages.
Preview