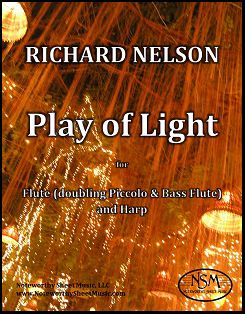 Play of Light, by Richard Nelson
Contemporary Composition for Flute (doubling piccolo & bass flute) and Harp
Score and Flute Part, PDF $15.25
Play of Light, for flute and harp, was written for the duo "2" (Peter H. Bloom and Mary Jane Rupert). The piece is built around spaciousness, transparency, multi-hued shadings and playful chases. The incorporation of bass flute and piccolo further enhances the inherently rich color possibilities of the flute/harp combination—the three flute instruments in succession form a sort of "super-flute" in the work's final section.
Drawing on his jazz and improvisation background, composer Richard Nelson in this composition leads the players into a substantial section that they complete through improvisation. While they follow signposts on intensity, energy and pitch content that he provides, this practice nonetheless creates an element of intrigue and unpredictability that the composer values highly. It also assures that each performance of the piece will have a strongly individual profile.
The Duo "2" artists have released a studio recording of Play of Light, available free of charge; please click the link to listen to the audio file on the composer's SoundCloud site.
Peter H. Bloom gave a lecture on "Effective Writing for Flutes and the Contemporary Flutist" at the 2018 Snow Pond Composers Workshop. In his presentation, Mr. Bloom discussed various topics using four contemporary works published by Noteworthy Sheet Music, including Play of Light, as examples. We later published a free text version of this excellent presentation on our website, in the Reviews and Articles section, including some of the audio clips and supplemental written materials that Mr. Bloom used as demonstrations.
Score, 23 pages; Flute part, 9 pages; Total, 36 pages.
Preview
==========================================================
We also offer a print version of Play of Light by Richard Nelson, for those who prefer to purchase the work as a professionally-printed hard copy. Due to prohibitively high international shipping rates, we ship print editions only to addresses in the USA. The cost of the hard copy edition of Play of Light is $25.93, plus a $5.95 shipping and handling fee. Please use the Contact Us form to let us know which print publication(s) you would like to purchase, along with your email contact information and USPS mailing address. We will then send you a PayPal invoice for the sale and, once we receive notice from PayPal that you have paid for the item(s), we will ship your music to the address provided for delivery in 7-10 business days.