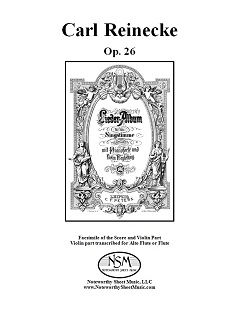 Waldesgruss and Frühlingsblumen, Op.26, by C. Reinecke
Facsimile Edition plus Transcriptions for Flute & Alto Flute by C.A.Vater
Score for Violin, Voice, & Piano, Violin Part, Flute & Alto Flute Parts, PDF $9.98
Carl Reinecke (1824-1910) was a renowned German pianist, composer, conductor, and teacher of composition. He composed numerous works, and for over 35 years was a leader of the music scene in Leipzig. Reinecke's Op.26 includes two songs for voice with accompaniment of violin and piano: No.1, Waldesgruss (The Forest's Greeting); and No.2, Frühlingsblumen (Spring Flowers). The vocal range of Reinecke's Op.26 lieder extends from C4 to A5, and thus is well-suited for either soprano or mezzo-soprano.
Our edition contains an "enhanced" facsimile of the original score and violin part, plus new transcriptions of the violin part for either alto flute or flute. Thus, the two songs may be performed utilizing the accompaniment of violin, alto flute, or flute, along with the voice and piano. Alternatively, these pieces work very well as an instrumental arrangement with the voice part played on flute, accompanied by alto flute and piano.
Score, 6 pages; Violin, Alto Flute, and Flute parts, 2 pages each; Total, 18 pages.
Preview