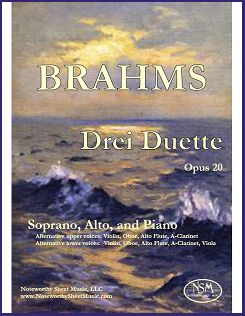 Drei Duette, Op.20, by Johannes Brahms

Transcribed for Mixed Voice, Instruments, and Piano by John W. Pratt

Score for Soprano, Alto, and Piano; Transcribed upper voice Parts for Violin/Oboe, Alto Flute, and A-Clarinet; and Transcribed lower voice Parts for Violin/Oboe, Alto Flute, A-Clarinet, and Viola; PDF $12.99
Composed in 1858–1860, the Drei Duette, Op. 20, for soprano and alto are the earliest of Johannes Brahms' duets and quartets for solo voices and piano. The three songs are titled Weg der Liebe (1. Teil), Weg der Liebe (2.Teil), and Die Meere. Except for brief canonic passages in No. 1, the voices have the same words, sung simultaneously, mostly in parallel thirds and sixths. The accompaniments are straightforward, without Brahmsian ensemble challenges but not without harmonic interest. Many have found the songs Mendelssohnian. The words come from the collection Stimmen der Völker of Johann Gottfried Herder (1744–1803). The first two are translations by Herder of two parts of a Northern English folk poem Love will find out the Way. The third is Italian in origin.
The vocal parts lie well for many instruments, opening the possibility of mixed voice and instrument, as well as fully-instrumental, performances. If one voice is replaced by an instrument, no words will be lost and the result will be a song with wonderful instrumental obbligato and piano accompaniment. If two instruments are used, the result is a beautiful "song without words." We include in our edition transcriptions of both voices for oboe/violin, alto flute in G, and clarinet in A, and of the lower voice for viola as well. Our transcriptions provide slurs to suggest a vocal style to instrumental players and to facilitate coordination of the instrumental parts with those of the voices. We also provide a re-notated piano/vocal score, in which repeat signs are used in the second and third songs to save page turns, rather than writing out the multiple stanzas as in the original. For those needing only the piano/vocal score, the Breitkopf & Härtel edition is in the public domain and freely available on imslp.org.
Piano/Vocal Score, 10 pages; Instrumental Parts, 3 pages each; Total, 42 pages.
Preview