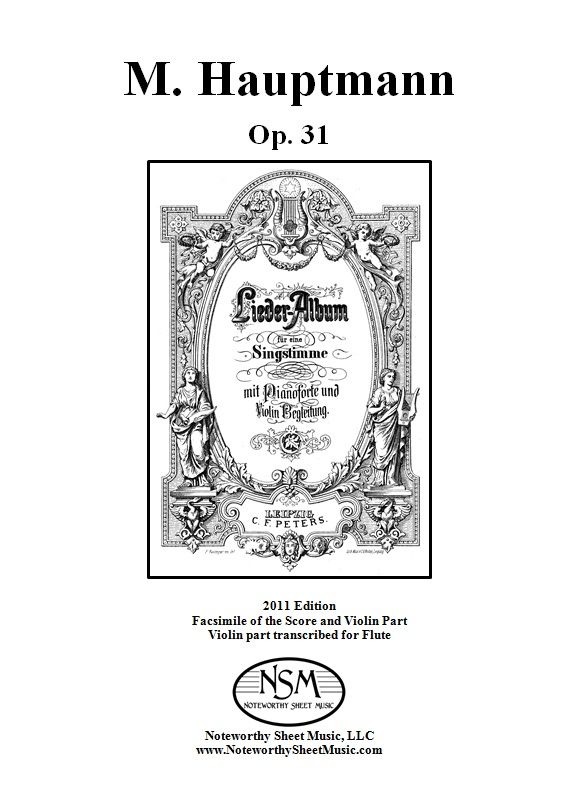 Meerfahrt, Nachtgesang, and Der Fischer, Op.31, by M. Hauptmann
Facsimile Edition plus a Transcription of the violin part for Flute by C.A.Vater
Score for Violin, Voice, & Piano, Violin Part, and Flute Part, PDF $18.75
Moritz Hauptmann (1792-1868) was a renowned music theorist, pedagogue, violinist, and composer. In 1842, at Mendelssohn's recommendation, he was appointed cantor at the Thomasschule and professor of composition at the newly founded Leipzig Conservatory. Hauptmann published a major scholarly work on music theory in 1853, "Die Natur der Harmonik und Metrik" (The Nature of Harmony and Meter), as well as some 60 compositions.
Hauptmann's Op.31 comprises three lovely songs scored for voice with accompaniment of violin and piano: No.1, Meerfahrt (Sea Voyage); No.2, Nachtgesang (Night Song); and No.3, Der Fischer (The Fisherman). The vocal range extends from B3 to G5, and thus is well-suited for mezzo-soprano. These pieces were published by C. F. Peters as part of a larger volume, now in the public domain, entitled "Lieder-Album für eine Singstimme mit Pianoforte und Violin Begleitung". Our edition contains an "enhanced" facsimile of the original, plus a new transcription of the violin part for flute created using a modern music notation program. The three songs may be performed with comparable gratification utilizing the accompaniment of either violin or flute, along with the voice and piano.
Score, 15 pages; Violin part, 5 pages; Flute part, 5 pages; Total, 29 pages.
Preview