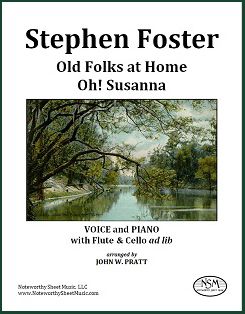 Old Folks at Home and Oh! Susanna, by Stephen Foster
Arranged with Flute and Cello ad lib by John W. Pratt
Flute Parts, Cello Parts, Voice Parts, and Piano Scores ― PDF $7.99
The following excerpts are taken from John W. Pratt's foreword to the edition:
When a Golden Oldie comes to mind, Doo-dah! Doo-dah!
Comic, sad, or any kind, Oh! Doo-dah-day!
Jeanie, Swanee, Kentucky, Joe, Doo-dah! Doo-dah!
Beautiful, dreamy, fast, or slow, Oh! Doo-dah-day!
I'll bet I know who wrote it, he wrote them night and day,
Stephen Foster wrote it, he'll never go away.
Stephen Foster was born in Lawrenceville, Pa., on July 4, 1826...He wrote over 200 songs, including 135 parlor songs, 28 minstrel songs, and 21 hymns and Sunday school songs. A remarkable number are memorable, as the ditty above will attest to anyone with anything like my background. One wonders why. The harmonies and rhythms are basic, as are the forms and rhyme schemes (see above), the music is repetitious, and the vocal range rarely goes outside an octave (a great benefit for community singing). Yet the fit is so natural and the pacing so well judged that the songs are ideally effective and diabolically catchy. Foster is perhaps, though on a different plane, the Mozart of his field...
For a pianist playing several stanzas at a sing-along, Foster's songs do become a little dull. But their very simplicity, repetitiousness, and familiarity abet variation as, again on a different plane, chorales serve Bach chorale preludes. Like chorale preludes, the piano parts here always incorporate the melody, so they can be played solo or to accompany amateur singers. It struck me that they could be enhanced by optional flute parts. After writing them, I discovered that, according to his brother Morrison, Foster himself "delighted in playing accompaniments on the flute...As the song went on he would improvise...the most beautiful variations upon its musical theme." If Foster's improvisations were like the one his brother published, however, they just varied the melody itself in the manner of the period. My game is more ambitious, as you will easily see. I added optional cello parts, mostly for color, as in the Haydn trios but superficially more interesting for the cellist. (Again we are on a different plane, of course.)
"Oh! Susanna," one of the best-known American songs by anybody, is Foster's "Erlkönig." (Speak of different planes!) With its nonsensical lyrics and polka beat, it is clearly comical, and I treated it accordingly. It was written in Cincinnati, possibly for a social club, first performed at an ice cream saloon in Pittsburgh in 1847, and published in 1848. When no American song had sold over 5,000 copies, it sold over 100,000. It earned Foster only $100, but its popularity led to a publisher's offer, convincing him to become a professional songwriter, America's first.
"Old Folks at Home" established Foster as a truly American composer. It was written in 1851 for a blackface troupe whose leader paid Foster about $15 to be credited for it. When almost finished, Foster asked his brother for "a good name of two syllables for a Southern river." He rejected Yazoo and Pedee, but was delighted with Swanee, a shortening of Suwanee, a small river in Florida which his brother found in an atlas. Though about a slave's nostalgia for home, I find its theme universal and melancholy and I resisted the temptation to jazz it up. Please try, at least, a slowish tempo.
― John W. Pratt, May 27, 2013 ©
Flute parts, 2 pages; Cello parts, 2 pages; Voice parts, 2 pages; Scores, 7 pages; Total, 18 pages.
Preview