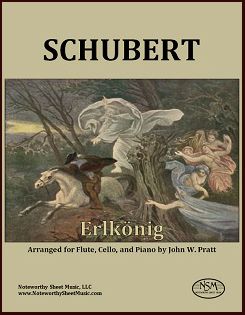 Erlkönig, Franz Schubert
Arranged for Flute, Cello, and Piano by John W. Pratt
Piano Score and Parts for Flute and Cello; PDF $11.99
Franz Schubert (1797-1828), inspired by reading Goethe's poem, wrote his song "Erlkönig" in a few hours in 1815. The song was an immediate hit, and continues to be popular to the present day. Numerous transcriptions have been prepared, but surprisingly none that we found for flute, cello, and piano. John Pratt has created such a trio arrangement, listed here, and also a duet version of the piece with Schubert's solo part adopted without change but with a less punishing alternative to Schubert's piano accompaniment.
Excerpted from Mr. Pratt's © preface:
"In the trio arrangement, the flute provides a natural voice for the child and for the mysterious Erlking, whose words are in the child's head. The cello makes a natural father. The narration is mostly given to the cello also, but the flute takes over when the child is mentioned in bars MM 24-30, and joins the cello when the ride is ending in anguish and distress (MM 139-145). The piano is treated as a member of a trio rather than an accompaniment to a voice singing words. The presence of the cello helps free the piano from the constant pounding and allows it to employ a wider range of expressive sonorities than Schubert's, befitting the absence of words. One might view the result as a kind of tone poem."
Piano score, 8 pages; Flute part, 2 pages; Cello part, 2 pages; Total, 20 pages.
Preview
We also offer a printed hard copy edition of Erlking for $20.38 plus a $5.95 shipping and handling fee to addresses in the USA. Please use the Contact Us form to let us know which hard copy publication(s) you would like to purchase, along with your email contact information and USPS mailing address. We will then send you a PayPal invoice for the sale and, once we receive notice from PayPal that you have paid for the item(s), we will ship your music to the address provided.