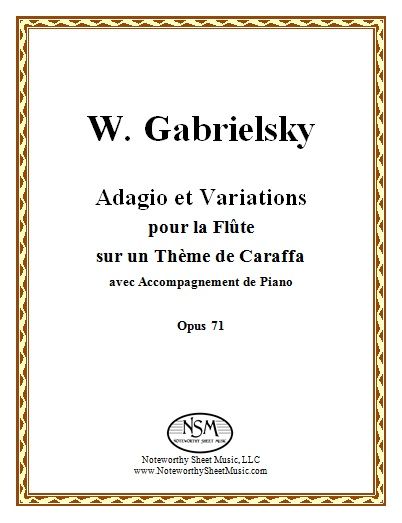 Adagio et Variations pour la Flûte sur un Thême de Caraffa, Op. 71, by W. Gabrielsky
Gassett Collection - New Edition by Noteworthy Sheet Music
Flute Part and Piano Score, PDF $18.75
Johann Wilhelm Gabrielski (or Gabrielsky), 1795-1846, was an acclaimed German flutist and composer from Berlin. In 1814 Gabrielski secured a position as flutist at the theatre in Stettin and within two years was appointed to the Royal Court. Gabrielski's compositions, of which there are more than 100, were highly esteemed and popular in his day. Although these works have much to offer modern day flutists as well, Gabrielski's music is neither widely known nor readily available today. The Adagio et Variations pour la Flûte, Op. 71, exploits melodic material by Michele Enrico Carafa (Caraffa) di Colobrano (1787-1872), a Naples born musician who had a remarkably successful career in Paris as a composer for the Opéra-Comique and as a professor of composition and counterpoint at The Conservatoire. The work showcases the flutist's virtuosity, atop a relatively uncomplicated piano accompaniment.
For additional information about the Gassett Collection, please see see our article An Introduction to the Gassett Collection.
Flute part, 11 pages; Piano Score, 16 pages; Total, 31 pages.
Preview