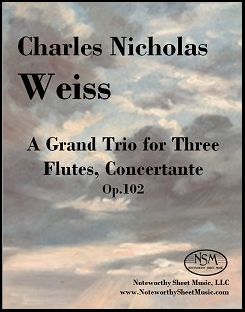 A Grand Trio for Three Flutes, Concertante, by Charles N. Weiss
Gassett Collection - New Edition by C.A.Vater/Noteworthy Sheet Music
Flute 1 Part, Flute 2 Part, Flute 3 Part, and Score: PDF $13.50
Charles Nicholas Weiss was the son and pupil of the well-known flutist and composer Carl Weiss. After a stint in accounting, Charles began his music career as a flutist, teacher and composer in Italy and later settled in London. He published an acclaimed flute method book (Methodical Instruction-book, Op. 50) and composed a great deal of music, most now forgotten and unavailable. Weiss' favorite trio, A Grand Trio for Three Flutes, Concertante, Op. 102, was dedicated to his brother, the flute professor and music publisher Willoughby G. Weiss. We have re-notated the parts and created a score using a modern music notation software program. This is an easy-to-intermediate level piece.
For additional information about the Gassett Collection, please see see our article An Introduction to the Gassett Collection.
Score, 17 pages; Flute 1/2/3 parts, 8/6/4 pages of music; Total, 43 pages.
Preview
======================================================================
We also offer a professionally-printed hard copy edition of A Grand Trio for Three Flutes, Concertante for $22.95 plus a $5.95 shipping and handling fee to addresses in the USA. Please use the Contact Us form to let us know which hard copy publication(s) you would like to purchase, along with your email contact information and USPS mailing address. We will then send you a PayPal invoice for the sale and, once we receive notice from PayPal that you have paid for the item(s), we will ship your music to the address provided.