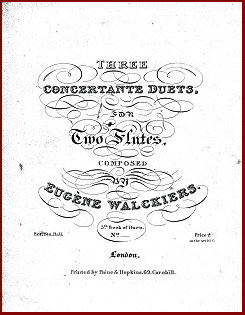 Three Concertante Duets for Two Flutes, by Eugène Walckiers
Gassett Collection - Facsimile Edition by C.A.Vater/Noteworthy Sheet Music, with a Foreword by Peter H. Bloom
5th Book of Duets
Duetto 1: Flute 1 Part and Flute 2 Part, PDF $10.50
Duetto 2: Flute 1 Part and Flute 2 Part, PDF $10.50
Duetto 3: Flute 1 Part and Flute 2 Part, PDF $12.00
Eugène Walckiers (1793-1866) studied composition at the Paris Conservatoire with Anton Reicha and became a masterful, inventive, and prolific composer and arranger of 19th century chamber music. Walckiers was also a flutist, having been a protégé of the legendary Tulou. Rockstro, in his Treatise on the Flute (London, 1889), paid great tribute to Walckiers when he wrote: "The duets, trios and quartets of Walckiers belong to the highest school of French art, and prove their composer to have been a man of real genius. They are exceedingly imaginative, occasionally rather eccentric, yet always elegant, charming, and scholarly."
Rosamund Plummer wrote an independent review of Noteworthy Sheet Music's edition of Walckiers' Duetto 1 which was reproduced on the NSM website after first being published by Flute Focus.
Jason Ng & Campbell Wang won a Gold Award in the Secondary Duet Class of the 2012 New Zealand Woodwind Competition for their performance of Eugène Walckiers' 5th Book of Duets—Duetto I, published by Noteworthy Sheet Music.
For additional information about the Gassett Collection, please see see our article An Introduction to the Gassett Collection.
Duetto 1: Flauto Primo part, 9 pages; Flauto Secondo part, 7 pages; Total, 21 pages. $10.50
Duetto 2: Flauto Primo part, 9 pages; Flauto Secondo part, 7 pages; Total, 21 pages. $10.50
Duetto 3: Flauto Primo part, 9 pages; Flauto Secondo part, 9 pages; Total, 23 pages. $12.00