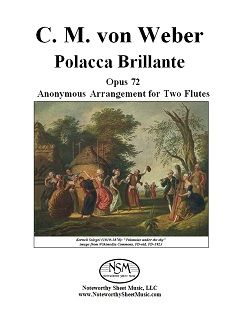 Polacca Brillante, Op.72, by Carl Maria von Weber
Anonymous Arrangement for Two Flutes
Gassett Collection - New Edition by C.A.Vater/Noteworthy Sheet Music
Flute 1 Part, Flute 2 Part, and Score, PDF $7.99
Carl Maria von Weber (1786-1826) was a German piano virtuoso and prolific composer who made major, influential contributions to many kinds of music and is widely credited with being a founder of the Romantic school. Weber's rousing Polacca Brillante in E major, Op.72 (alternatively known as L'Hilarité or Grande Polonaise brillante) was written originally for piano solo. It was composed and first published in 1819, and was later transcribed by Liszt for piano and orchestra.
We came across an anonymous arrangement of this piece, a duet for two flutes, among the print copies included in the Gassett Collection. The duet is great fun for flutists, so we created a renotated edition of the arrangement, with the goal of modernizing the format and correcting some likely inaccuracies. Our new edition includes a score at no extra charge as well as the two flute parts.
For additional information about the Gassett Collection, please see see our article An Introduction to the Gassett Collection.
Fl1/Fl2 Score, 8 pages; Flute 1 part, 4 pages; Flute 2 part, 4 pages; Total, 22 pages.
Preview