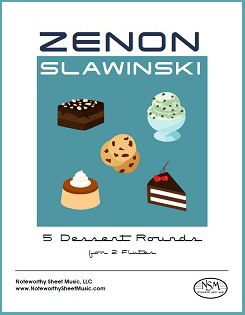 5 Dessert Rounds, by Zenon Slawinski
Contemporary Composition for Two Flutes
Score, PDF $4.99
Excerpts from the preface to the edition by Zenon Slawinski:
In most classic rounds the second voice begins and plays (or sings) the same melody as the first voice. That's the case here too for three of the five Dessert Rounds. Rounds 3 and 4 are different. In Round 3 - The Chocolate Chocolate Chip Cookie - the second voice plays the same melody but a third higher. In Round 4 - Sweet Potato Flan - the second voice plays the melody a 4th higher. // The Dessert Rounds are relatively simple and should not pose any difficulties for most intermediate players, although there are some tricky meter changes in Round 2 - Chocolate Mint Ice Dream - if you practice this slowly you'll soon be able to get past the meter changes and simply enjoy your dessert. // Round 4 - Sweet Potato Flan - is written in 7/4. // I purposely left off many performance markings so the players can make their own mark on the compositions. Interpret these pieces freely and have fun.
Zenon Slawinski, September 12, 2014
--------------------------------------------------------------------------------------------------------------
Click to listen to a few audio samples of the Dessert Rounds:
Round 1

Round 2

Round 4

Round 5

Score for two flutes, 6 pages; Total, 10 pages.
Preview