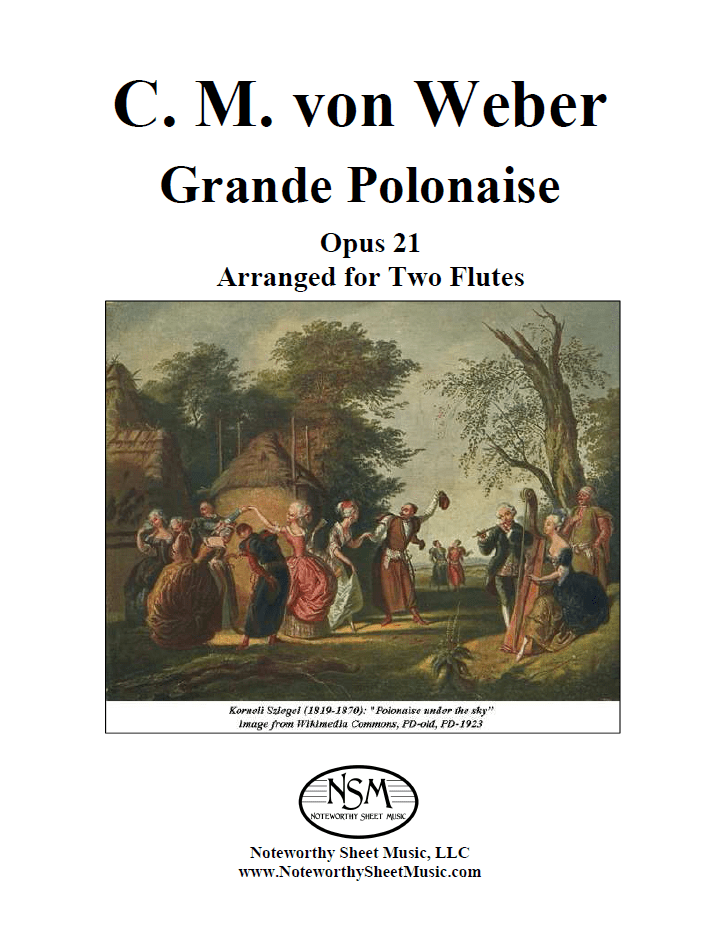 Grande Polonaise, Op.21, by Carl Maria von Weber
Anonymous Arrangement for Two Flutes
Gassett Collection - New Edition by C.A.Vater/Noteworthy Sheet Music
Flute 1 Part, Flute 2 Part, and Score, PDF $7.99
Carl Maria von Weber's Grande Polonaise, Op.21 was written originally for piano solo. The piece was composed in 1808 and first published in 1815. The Gassett Collection of 19th century flute music contains an edition of this piece arranged anonymously as a duet for two flutes, along with a flute duet version of Weber's Polacca Brillante in E major, Op.72, which we also offer. We re-notated the flute arrangement of the Grande Polonaise and offer this new edition, which includes a score at no extra charge, as well as the two flute parts.
For additional information about the Gassett Collection, please see see our article An Introduction to the Gassett Collection.
Flute 1 part, 4 pages; Flute 2 part, 4 pages; Fl1/Fl2 Score, 10 pages; Total, 24 pages.
Preview