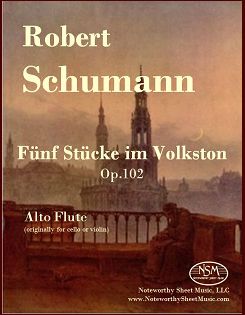 Fünf Stücke im Volkston, Op.102, by Robert Schumann
Transcribed for Alto Flute and Piano by John W. Pratt
Alto Flute Part, PDF $6.99
Excerpted from the foreword by John W. Pratt:
"Robert Schumann (1810-1856) wrote Fünf Stücke im Volkston (Five Pieces in Folk Style), Opus 102, for violoncello and piano on April 13-15, 1849. // Fünf Stücke im Volkston was premiered on Schumann's 40th birthday, June 8, 1850 by his wife, Clara, and their friend Andreas Grabau, the dedicatee, a cellist in the Leipzig Gewandhaus Orchestra. Clara thought the pieces beguiling, fresh, original, and under-appreciated. They have been viewed as precursors of his cello concerto, composed in October, 1850, and first performed after his death in honor of his 50th birthday. // Just as folk songs may appropriately be sung by a great variety of voices, it is perhaps appropriate that songs without words in folk style may be played by a great variety of solo instruments and piano. In any event, Schumann's Fünf Stücke im Volkston have been arranged for oboe, viola, clarinet, alto saxophone, horn, bass clarinet, bassoon, trombone, and baritone saxophone, at least. The pieces are this popular for good reason, being varied and appealing, and we are pleased to add alto flute to this list. Though often programmed by professionals, they call for folk-like playing, not virtuosity, and are entirely suitable for ordinary folk."
We provide our transcribed alto flute part only; the piano score is in the public domain and available without charge from imslp.org.
Alto Flute part, 6 pages; Total, 10 pages.
Preview