Erlkönig, by Franz Schubert
Arranged for Cello (or Viola or Alto Flute) and Piano by John W. Pratt
Piano Score and Parts for Cello/Voice, Viola, and Alto Flute; PDF $11.99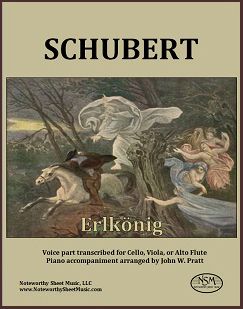 Franz Schubert (1797-1828), inspired by reading Goethe's poem, wrote his song "Erlkönig" in a few hours in 1815. The song was an immediate hit, and continues to be popular to the present day. John Pratt has created a trio arrangement for flute, cello, and piano (click for more information), and also the duo version offered here with Schubert's solo voice part transposed for cello (or viola or alto flute), and with a less arduous alternative to Schubert's piano accompaniment.
Excerpted from Mr. Pratt's © preface:
"In the duo arrangement, Schubert's solo part is adopted without change. Thus the piano must provide the entire accompaniment, but rocking triplets and other pianistically felicitous passagework replace Schubert's unremitting repetition. The range of sonorities is also wider than Schubert's, though more restrained than that of the trio arrangement, where the flute enlarges the musical terrain. This accompaniment is offered as a less punishing alternative to Schubert's, to be played with a singer or any solo instrument. Solo parts are provided for voice or cello, viola, and alto flute."

Piano score, 6 pages; Cello, Viola, and Alto Flute parts, 2 pages each; Total, 22 pages.
Preview
We also offer a printed hard copy edition of Erlking for $20.38 plus a $5.95 shipping and handling fee to addresses in the USA. Please use the Contact Us form to let us know which hard copy publication(s) you would like to purchase, along with your email contact information and USPS mailing address. We will then send you a PayPal invoice for the sale and, once we receive notice from PayPal that you have paid for the item(s), we will ship your music to the address provided.