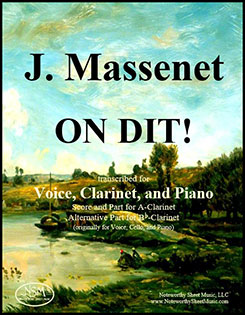 Jules Massenet was an eminent and prolific French composer of the Romantic period. His composition
On dit!
is a musical setting of the eponymous poem by Jean Roux. Massenet provided the piece with a prominent part for cello, which we have adapted for clarinet, creating a lovely and suitable new version of
On dit! for clarinet, voice, and piano
. We provide a score in concert pitch, as well as individual parts for either A-clarinet or Bb-clarinet transcribed from the original cello part.