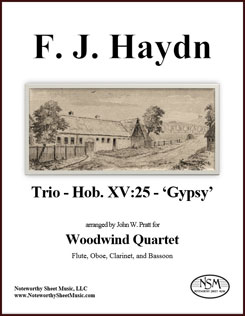 Trio, Hob. XV:25 'Gypsy', by Franz Joseph Haydn
arranged for Woodwind Quartet by John W. Pratt
Score and Parts for Flute, Oboe, B♭-Clarinet, and Bassoon; plus, an alternative A-Clarinet part; PDF $16.97
Short summary adapted by NSM from John W. Pratt's foreword to the edition: The trios Hob. XV: 24-26 were, in Robbins Landon's account (Haydn, Indiana, 1976), probably the last works Haydn delivered to his publishers before he left England in 1795. They were written for strong amateur pianists and weak string players, and although the string parts are essential for their effects on sonority, they are not terribly interesting. Such a scenario lends itself beautifully to arrangement of these piano trios for wind quartet.
Haydn labeled the finale of Hob. XV: 25 "in the Gypsies' style", and the trio became an enormous favorite. In the key of G, it opens with a particularly lovely slow movement having alternating minor and major variations. The third variation is in the relative minor (e), anticipating the key, E major, of the even slower, but subtle and melodically rich, second movement. This retardation heightens the effect of the famous finale.
We have provided alternative parts for clarinet in B-flat and in clarinet in A. Some players may wish to use the A-clarinet only in the second movement, for the sake of the friendlier key signature and perhaps also for sound, depending on the instrument.
Click to listen to computer-generated audio samples from the score; audio clips from movements I (m42-48, m72-78), II (m57-63), and III (168-190) are separated by brief pauses.
Score in concert pitch, 17 pages; Flute part, 6 pages; Oboe part, 4 pages; B♭-Clarinet part, 6 pages; Bassoon part, 4 pages; alternative part for A-Clarinet, 6 pages; Total, 56 pages.
Preview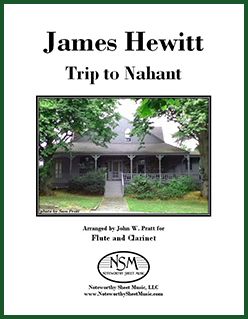 Trip to Nahant, by James Hewitt
Arranged as a Duet for Flute and Clarinet by John W. Pratt
Flute Part, Bb Clarinet Part, alternate A Clarinet Part, and Score ― PDF $5.99
James Hewitt (1770-1827) moved from London to New York in 1792 and was active in both New York and Boston as a composer, arranger, music publisher, performer, teacher, and orchestra conductor. In Hewitt's time, Nahant was an island connected to the mainland by a sandbar submerged at high tide, now a causeway. It was a popular, cool place for day trips from Boston and later became a fashionable summer resort.
Hewitt's Trip to Nahant, a favorite Rondo (1811) was written for keyboard, and is typical of American music of the period. It is charming, light in texture and subject, and well suited to arrangement for flute and clarinet. (adapted from JWP's foreword to the edition) We provide parts for Flute and Clarinet in Bb, along with an alternative part for Clarinet in A and a Score in concert pitch.
Flute part, 2 pages; Bb Clarinet part, 2 pages; alternate A Clarinet part, 2 pages; Score, 4 pages; Total, 16 pages.
Preview
Sonata in D minor, Op.50, Duo 3, by Franz Anton Hoffmeister

Duet transcribed for Flute and Bb Clarinet
Score and Parts, PDF $11.25

Noteworthy Sheet Music published an edition of the Sonata in D minor, Duo 3 from Hoffmeister's Trois Duos pour Deux Flûtes, Op.50, after being contacted by flutist Richard A. Evans. Years ago, Mr. Evans had located several editions of 18th and 19th century flute duets, long since out of print, at the Library of Congress. Finding them quite enjoyable to play, and believing them undeserving of their current obscurity, he and his music colleague Bronnie Stroud took the initiative of re-typesetting and editing the pieces using a modern music notation software program. Aware of the paucity of repertoire available for flute and clarinet duo, and realizing these pieces would work nicely for that instrument pair as well, he also transcribed the second flute parts for Bb clarinet. We at NSM agreed that these works should be made more readily available to present-day musicians and audiences, and we published them after making only minor stylistic and formatting revisions to Mr. Evans' scores and parts; the articulation and dynamic markings are those suggested by Mr. Evans.

Score, 15 pages; Flute part, 8 pages; Bb Clarinet part 8 pages; Total, 34 pages.
Preview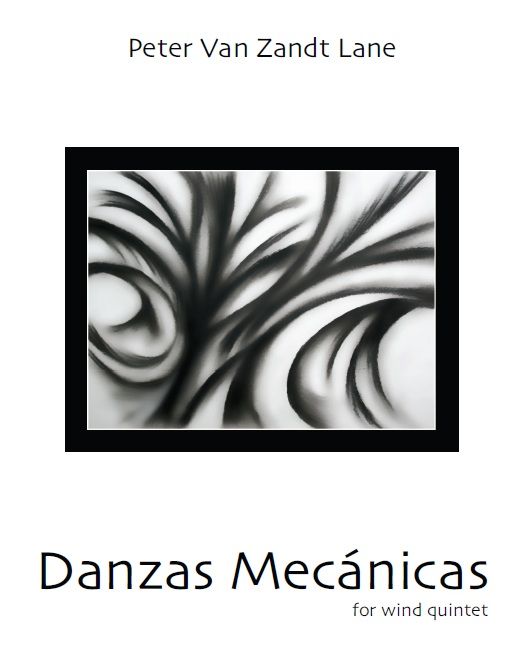 Danzas Mecánicas, by Peter Van Zandt Lane
Contemporary Composition for Wind Quintet, PDF $30.00
Peter Van Zandt Lane is a Boston-based composer and bassoonist. His compositions have been performed across the United States, as well as in Europe and South America, by acclaimed musicians and ensembles such as The Cleveland Orchestra, SIGNAL, International Contemporary Ensemble, Dinosaur Annex, New York Virtuoso Singers, Triton Brass, Xanthos Ensemble, East Coast Composers Ensemble, EAR Duo, Quux Collective, and NotaRiotous. He has written for chamber ensemble, wind ensemble, orchestra, and choir, and often employs the use of electronics in his works.
Lane's Danzas Mecánicas - for woodwind quintet (2011) is an exciting 3-movement, 10-minute piece of fairly high difficulty scored for flute, oboe, clarinet, horn, and bassoon. A recording of the piece performed by the Solar Winds Quintet at Slosberg Hall, Brandeis University, in October, 2013 can be heard on YouTube.
Score, 26 pages; Parts, 49 pages; Total, 78 pages.
Preview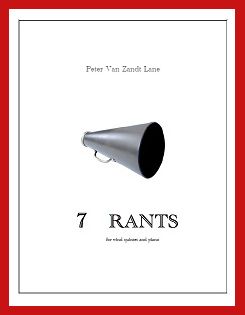 Seven Rants, by Peter Van Zandt Lane
Contemporary Composition for Flute, Oboe, Clarinet, Horn, Bassoon, and Piano, PDF $0.00
Peter Van Zandt Lane was commissioned to compose this piece for the 67th Composers Conference and Chamber Music Workshop at Wellesley College, which took place in the summer of 2011. The annual Conference is a wonderful two-week event, which brings together prominent young composers, superb professional musicians, dedicated amateur chamber musicians, and enthusiastic listeners. The professional musicians premiere the composers' new works and also coach the amateur musicians in chamber ensembles. Concerts are free and open to the public. For more information on the program, please visit the Composers Conference website.
After the Conference each year, one of the composer fellows is selected to create a new work for the next year's chamber music workshop participants. That composer returns the following summer to coach two groups of players on the new composition, in preparation for performances in the Saturday evening concerts of Week I and Week II. Peter Van Zandt Lane's Seven Rants was an enormous success in 2011, absolutely loved by the players and received exceptionally well by the audience. Written for flute, oboe, clarinet, horn, bassoon, and piano, Seven Rants is a series of seven delightful and diverse movements. The first and last movements are strict palindromes. The five middle movements or "rants" are "mini-concertos", each highlighting a different wind instrument. Great fun to play, and highly accessible.
With permission from both the composer and the Wellesley Composers Conference and Chamber Music Center, Noteworthy Sheet Music is thrilled to offer our customers a free PDF download of Seven Rants by Peter Van Zandt Lane. And please check out more of this terrific young composer's work, including two other listings in the NSM catalog, Danzas Mecánicas and Transverse Fractures.
Score, 37 pages: Flute part, 10 pages; Oboe part, 9 pages; Clarinet part, 10 pages; Horn part, 9 pages; Bassoon part, 9 pages; Piano part, 15 pages; Total, 103 pages.