Na Rua dos Meus Ciúmes, Traditional Fado
Arranged for Woodwind Quintet by Antonio F. Figueiredo
Parts and Score, PDF $10.00
Na Rua Dos Meus Ciúmes is a traditional Portugese fado, still highly popular among recording artists today. This passionate love song tells the story of the intense jealousy experienced by a girl upon seeing her lover pass by with another woman on the street near her home. Though her pain is palpable, the girl is proud and determined to endure her suffering resolutely and without tears.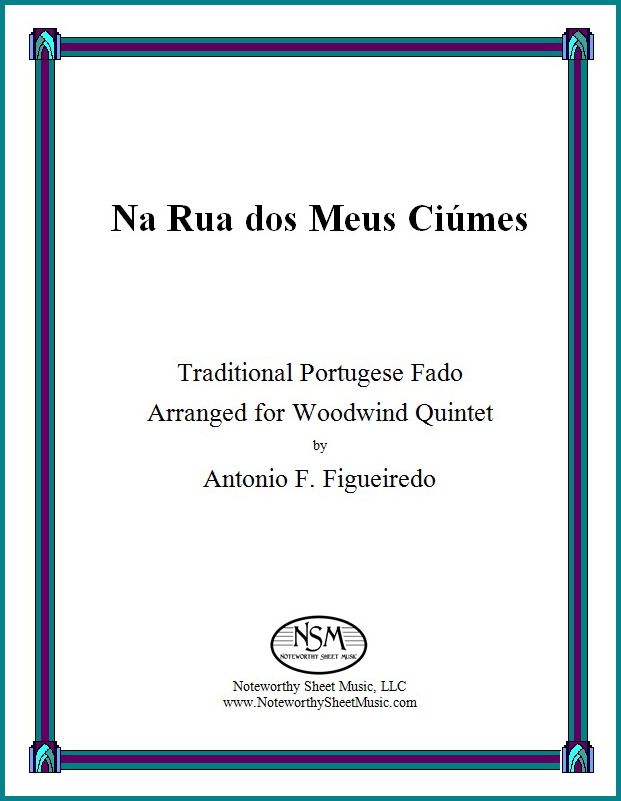 Antonio Figueiredo was born in the Azores, Portugal, and now resides in Massachusetts. He grew up listening to (and falling in love with) fado music, with all its romance and passion, and its timeless themes of love, loss, jealousy, poverty, and the sea. Figueiredo is a bassoonist who plays regularly in various orchestras and chamber music groups in the Boston area. He enjoys arranging folk tunes for woodwind quintet, and he created this delightful and engaging arrangement of Na Rua Dos Meus Ciúmes for one of his own groups. The piece is scored for flute, oboe, clarinet in B-flat, horn in F, and bassoon.
"This brief piece is a charming addition to the quintet repertory." Read John Ranck's full review of Figueiredo's arrangement of Na Rua Dos Meus Ciúmes.
Score, 5 pages; Parts, 1 page each; Total, 12 pages.
Preview
Deux Esquisses, by Philippe Gaubert
transcribed for Clarinet and Piano by C. A. Vater
Clarinet part and Piano score, PDF $9.99
Philippe Gaubert was a prominent French flutist, composer, and conductor who held a professorship at the Paris Conservatory and principal conducting positions at the Paris Opéra and the Orchestre de la Société des Concerts du Conservatoire. We've created a transcription of his Deux Esquisses (Two Sketches) for B♭ clarinet, complete with piano score. These pieces were written for flute and piano but are nicely adaptable for other winds. They were originally published by Heugel & Cie, in 1915 (No.1) and 1914 (No.2), and are now in the public domain. No.1, Soir sur la Plaine (Evening on the Plain), opens intriguingly with the solo instrument playing alone, repeating a single note. This motif sets the lovely, mysteriously forlorn tone of Soir sur la Plaine, and returns multiple times later in the piece. No.2, the second sketch, is Orientale, which, as its name suggests, evokes an atmosphere seemingly strange and foreign, Eastern.
Piano Score, 10 pages; Clarinet part, 4 pages; Total, 20 pages.
Preview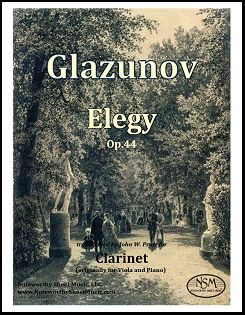 Elegy, Op.44, by Alexander Glazunov
Transcribed for Bb Clarinet (and Piano) by John W. Pratt
Clarinet Part — PDF $3.99
Alexander Konstantinovich Glazunov (b. St. Petersburg, 1865; d. Paris, 1936) was a major composer in the late Russian romantic tradition. His Elegy, Op.44, was written for viola and piano in 1893, and has been transcribed by John W. Pratt for Bb clarinet. The piece is about 6 minutes long, elegiac but not lugubrious. It consists of a lovely melody in 9/8 enhanced by a simple but warm piano accompaniment. The viola melody is readily transcribed for other instruments, since it is without double stops. The piano part is freely available at IMSLP.org.
Clarinet part, 2 pages; Total, 6 pages.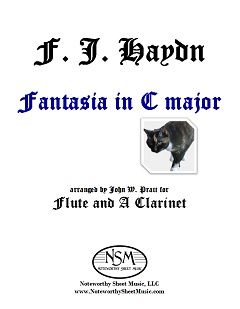 Fantasia in C major, by F. J. Haydn
Arranged as a Duet for Flute and Clarinet by John W. Pratt
Flute Part, A Clarinet Part, and Mini-Score ― PDF $12.99
Fantasia in C major (Op.58; Hob. XVII:4) was written by Haydn in 1789 for the pianoforte. Based on a folk song about a farmer's wife chasing her cat, one can easily imagine in the music kittenish scampering, stealthy approaches, unexpected pounces, and mad chases with abrupt changes of direction. The style and playfulness of the piece lend themselves well to flute and clarinet. The transcription is able to capture the feel Haydn intended, with new coloring, while at the same time affording flutists and clarinetists the joy of experiencing the work first-hand. (adapted from JWP's foreword to the edition)
Flute part, 6 pages; Clarinet in A part, 6 pages; Mini-score in concert pitch, 6 pages; Total, 24 pages.
Preview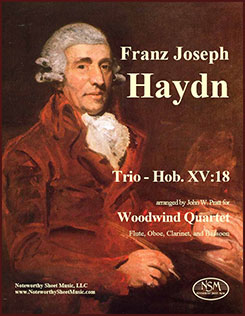 Trio, Hob. XV:18, by Franz Joseph Haydn
transposed to B-flat major and arranged for Woodwind Quartet by John W. Pratt
Score and Parts for Flute, Oboe, B-flat Clarinet, and Bassoon; PDF $20.97
As noted in the arranger's forward to the edition, the later piano trios of Franz Joseph Haydn (1732-1809) are superb music, but because they were written for excellent pianists and weak string players, they are dominated by the piano part. This imbalance among the parts actually makes the trios highly amenable to and effective in arrangement for woodwind quartet. Written after Haydn's first visit to London, the Piano Trio in A major, Hob. XV:18, was first published in 1794. The first of its three movements, a flowing Allegro moderato, is unified by ingenious use of the three-note motif opening its cantabile main theme. The lovely middle Andante, in ABA form and 6/8 meter, features some luxurious ornamentation and proceeds attacca to the spirited and humorous Allegro finale. The resources of a woodwind quartet are well suited to the musical ideas of this trio, and the arrangement adapts Haydn's piano, violin, and cello lines wonderfully to the range and sonority of the instruments used: flute, oboe, B-flat clarinet, and bassoon. This adaptation is facilitated by transposition from Haydn's original key of A major to B-flat major. We provide parts plus a score in concert pitch.
Click to listen to computer-generated audio samples from the score; audio clips from movements I (m44.4 - m64.3), II (m0 - m4.5 & m49.6 - m54.5), and III (m36.2.2 - m48) are separated by brief pauses.
Score in concert pitch, 21 pages; Flute part, 8 pages; Oboe part, 6 pages; B♭-Clarinet part, 5 pages; Bassoon part, 5 pages; Total, 52 pages.
Preview