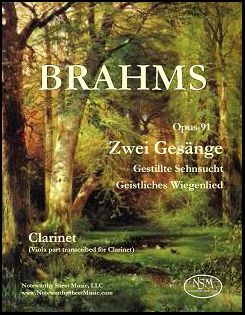 Two Songs, Op.91, by Johannes Brahms
Transcribed for Clarinet by John W. Pratt (part originally for viola)
Clarinet Part, PDF $6.99
The two chamber music songs of Brahms' Zwei Gesänge, Op.91 were composed specifically for his dear friends, the violinist/violist Joseph Joachim and the mezzo-soprano Amalie Schneeweiss, who were married in 1863. The songs (for alto, viola, and piano) were written over 20 years apart, but Brahms published them together as Op.91 in 1884.
"Gestillte Sehnsucht", which appears first in the Op.91 pairing, was actually written second, in 1884. The song sets the text of the poem by Friedrich Rückert (1788-1866). "Gestillte Sehnsucht" is a nature poem, filled with images of forests at sunset, gentle breezes, and twittering birds. Rückert is famous not only for his exquisite poems themselves but also for the great inspiration his work provided to numerous prominent composers, in addition to Brahms. "Geistliches Wiegenlied" (Sacred Cradle Song) was first composed in 1863-1864, and later revised. The viola opens with the melody of the medieval Christmas carol "Joseph, lieber Joseph mein." The singer has her own variation of the melody, and enters after the first stanza of the viola's carol. The song is a beautiful cradle-rocking lullaby, in 6/8 time.
It is said that the viola was Brahms' favorite stringed instrument, and the composer gave the viola a major role in both of these songs, allowing it to open both pieces before the singer enters. Clarinetists have long coveted these viola parts, and various performances have provided clear evidence that a successful outcome can be achieved with the substitution of a clarinet for the viola in Op.91. So when a clarinetist friend of ours asked us to create a transcription for him, we gladly obliged. Our edition of the clarinet part adapts the first song, "Gestillte Sehnsucht", for clarinet in A, and the second, "Geistliches Wiegenlied", for clarinet in Bb. The original piano score and voice part are in the public domain, readily available as free PDF downloads from IMSLP.org.
Clarinet part, 4 pages; Total, 8 pages.
Preview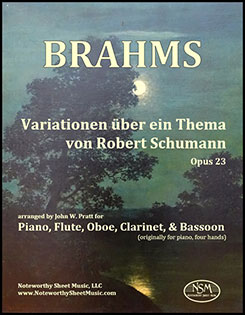 Variationen über ein Thema von Robert Schumann, Op.23, by Johannes Brahms
Arranged for Piano, Flute, Oboe, Clarinet, and Bassoon by John W. Pratt
Piano Score and Wind Parts, PDF $16.99
- adapted from John W. Pratt's foreword to the edition: Brahms's Variations on a Theme by Robert Schumann, Op.23, were written in tribute to his friend, for piano four hands. Yet how often have you heard this exquisite masterpiece, in any form? Arranging it as a quintet for piano and winds allows realization of its implicit orchestral effects and incorporation of contrasting and beautiful woodwind sonorities while preserving its many special piano sonorities and its personal, chamber music qualities and will, hopefully, encourage performance. The variations range from delicately decorative (Var. I) to spectral (IV) to warmly Brahmsian (many) to bravura (IX) and even perhaps witty (V and VII). The final variation (X) is an amazing valedictory, a funeral march which becomes combined with the theme and is suffused throughout with sadness, solemnity, resignation, and reaffirmation, by turns and even simultaneously. Especially apt contributions by the woodwinds in this arrangement include, to mention just two, the appreciative chuckles accompanying the rollicking theme of Var. V and the chorale effect at the end of Var. X. At the same time, the arrangement allows the piano to fulfill its usual roles in chamber ensembles and to contribute some special colorings of its own, including the multi-octave filigree of Var. I, the layout of the accompaniments in the first part of Var. III and last part of Var. V, the bass rumbles of Var. IV and Var. X, and the two-hand octaves in Var. VI and Var. IX.
Listen to a computer-generated audio clip of the Theme; of course, real live instruments will sound even better:
The Preview below is a page of the score from Var. VI. Note that the score is presented in concert pitch.
Score, 28 pages; Flute, Oboe, B-flat Clarinet, and Bassoon parts, 4 pages each; Total, 48 pages.
Preview
Sonata in D Major, Op.5, No.1, by Giuseppe Maria Cambini
Transcribed for Flute and B-flat Clarinet by R.A.Evans
Score and Parts, PDF $7.99
Giuseppe Maria Cambini (1746-1825) was an Italian-born violinist and composer. He was one of the most prolific composers of his era, particularly of instrumental works, of which he wrote over 600, including numerous symphonies, 149 string quartets and over 100 trios, as well as ballets, operas, & oratorios. Flutists will know him for his concertos and extensive body of chamber works featuring the flute, including duos, trios, quartets and quintets.

Cambini wrote his Sonata in D Major, Op.5, No.1 for two flutes, and Noteworthy Sheet Music has published a re-notated version of the flute duet at the suggestion of flutist Richard A. Evans, who long ago obtained the music from the Library of Congress and believed it undeserving of its current obscurity. Aware of the scarcity of music composed for flute-clarinet duos, Mr. Evans also initiated this flute-clarinet edition of Cambini's Sonata in D Major by transcribing the flute-2 part for clarinet in B-flat. We at NSM agreed that the Op.5, No.1 duet should be made more readily available to present-day musicians and audiences, in both the flute-flute and flute-clarinet versions. Our editions provide both scores and parts, and incorporate articulation and dynamic edits supplied by Mr. Evans.
Score, 8 pages; Flute part, 4 pages; B-flat Clarinet part 4 pages; Total, 22 pages.
Preview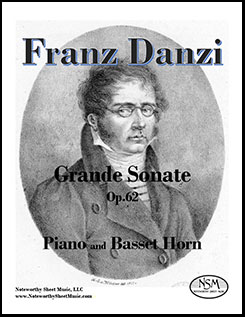 Grande Sonate, Op.62, by Franz Danzi
for Piano and Basset Horn; re-notated, edited, and with occasional ossia elaborations suggested by John W. Pratt
Piano Score and Basset Horn Part, PDF $13.99
Franz Danzi (1763-1826) was an active musician, cellist, and teacher in Mannheim, Munich, Stuttgart, and Karlsruhe. A prolific composer, especially of music for the stage and chamber music from keyboard solos to sextets, he revered Mozart and mentored Weber. His wind quintets are notable. His Grande Sonate, Opus 62, for piano and basset horn, was published about 1823, along with an alternative cello part which sometimes differs from the basset horn part in other ways than octave transposition. // The original publication of Danzi's Opus 62 is available at imslp.org., but there is no full score and the parts are hard to play from, or sometimes even to read at all, lack measure numbers, have a few errors, and differ in the number of measures in the last two movements. We have therefore prepared a full score including the basset horn in concert pitch, to facilitate checking the fit of the basset horn and piano lines and our transcriptions for other instruments against the original. — excerpted from John Pratt's foreword to the edition

Piano Score, 28 pages; Basset Horn part, 7 pages; Total 40 pages.
Preview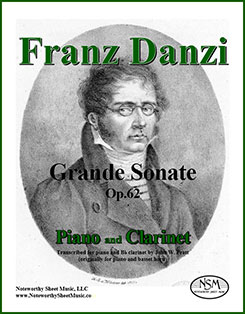 Grande Sonate, by Franz Danzi
transcribed for Piano and Clarinet by John W. Pratt
Piano score and B♭ Clarinet part, PDF $14.99
Danzi's Grande Sonate, Opus 62, written for piano and basset horn, was published around 1823, along with an alternative part for cello. Please see additional information about this piece in the article describing our re-notated basset horn edition. The Grande Sonate comprises four movements and provides both sparkle and mellow rich beauty. It is nicely adaptable to other winds, particularly the clarinet. Certain passages in the final movement of the original work seem to invite elaboration or improvisation by the solo instrument, and arranger John Pratt offers suggestions for possible additions or alternatives for the clarinet, making it even more fun to play.
Piano Score, 28 pages; B♭ Clarinet Part, 7 pages; Total, 40 pages.
Preview