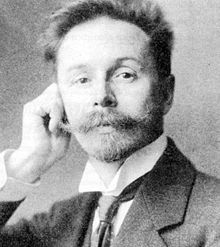 Romance, by Alexander Scriabin
Transcribed for Clarinet or Flute or Alto Flute (and Piano) by J. W. Pratt
Parts, PDF $0.00
Alexander Scriabin (1872-1915), the mystic Russian composer with music to match, wrote nine mind-bending orchestral works and myriad mostly miniature piano pieces. He began as a "Russian Chopin" and ended planning a week-long "Mysterium" to be performed in the Himalayas using "an orchestra, a large mixed choir, an instrument with visual effects, dancers, a procession, incense, and ... mists and lights" (Wikipedia).
The Romance of 1890, his only chamber work except one variation for string quartet, is nearer the Chopin end of that spectrum, though the piano part adds harmonic and rhythmic complexities not evident from the solo part alone.
- John W. Pratt, Jan. 19, 2016
Please click on the links to download your free PDFs:
Transcription for clarinet required no changes of pitch. Scriabin - Romance - Clarinet
The transcription for flute is raised an octave, except the last five measures. Scriabin - Romance - Flute
The transcription for alto flute raises MM21-24 and MM36-48 an octave. Scriabin - Romance - Alto Flute
The piano score is freely available on IMSLP.org.
Scriabin image courtesy of Wikimedia.org, PD-old.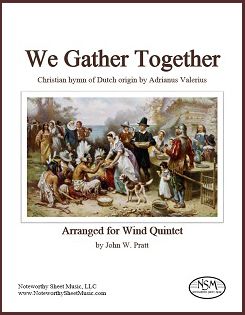 We Gather Together, by Adrianus Valerius
Arranged for Woodwind Quintet by John W. Pratt
Score and Parts for Flute, Oboe, Bb Clarinet, F Horn, and Bassoon; PDF $5.99
Wilt heden nu treden, nowadays more commonly known as We Gather Together, is a Christian hymn of Dutch origin composed by Adrianus Valerius and first published in 1626 (imslp.org); it was later harmonized by Eduard Kremser (en.wikipedia.org). In the United States, We Gather Together is the most popular song traditionally associated with the Thanksgiving holiday. John Pratt has created an arrangement of We Gather Together for woodwind quintet that lends new excitement and interesting harmonies to this old favorite. In his family, the tradition goes back as far as John Pratt (b. 1931) can remember, and when it fell to him to play all three stanzas at his family's annual gathering, he got interested in livening it up. The opportunistic half-step modulations introduced to help amateur voices warm up also brighten successive stanzas for winds. Our Noteworthy Sheet Music edition includes a score in concert pitch, as well as parts for flute, oboe, Bb clarinet, horn in F, and bassoon.
To listen to a computer-generated audio file of the WW5 arrangement, click the link.
Of course, the piece will sound much better live on real instruments.
Note that for this publication, the parts should be printed one-sided since they are only one page each and we have not inserted blank filler pages.
Score, 3 pages; Parts for Flute, Oboe, Bb Clarinet, F Horn, and Bassoon, 1 page each; Total, 10 pages.
Preview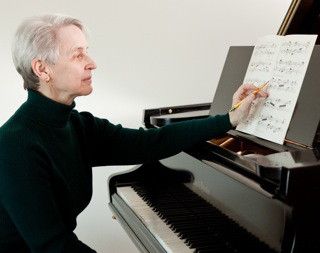 Woodwind Duos, by Elizabeth Vercoe
Original Compositions for 2 Flutes, 2 Oboes, or 2 Clarinets, $0.00 (free!)
Elizabeth Vercoe's Duos for woodwinds are available as free downloads from the composer's own website at http://www.elizabethvercoe.com/. Dr. Vercoe kindly offered to allow Noteworthy Sheet Music, LLC to make these duets available from our website as well.
The Duos, in versions for two flutes, two oboes, or two clarinets, are "fun and quite easy. They are suitable for intermediate students."
Photo of Elizabeth Vercoe courtesy of Caroline Alden.
Just click on the links below to download the Duos at no charge; each PDF includes all 5 short duets:
Duos for 2 Flutes
Duos for 2 Oboes
Duos for 2 Clarinets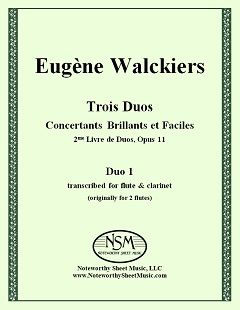 Trois Duos Concertants Brillants et Faciles, by Eugène Walckiers
2me Livre de Duos, Op.11
Transcribed for Flute and B-flat Clarinet by C.A.Vater
Duo 1: Flute Part, Clarinet Part, and Score, PDF $10.50
Duo 2: Flute Part, Clarinet Part, and Score, PDF $15.00
Duo 3: Flute Part, Clarinet Part, and Score, PDF $16.50
Please view our listing for Eugène Walckiers' 2me Livre de Duos pour Deux Flutes to read a general description of this work. After publishing our renotated modern editions of these wonderful Walckiers' flute/flute duets, Noteworthy Sheet Music received a request that we create transcriptions of the duets for flute and B-flat clarinet. We thought this was a great idea, and our flute and clarinet versions are now available.
Duo 1: Fl & Cl score, 10 pages; Flute & Clarinet parts, each 7 pages of music; Total, 33 pages. PDF $10.50
Duo 2: Fl & Cl score, 14 pages; Flute & Clarinet parts, each 7 pages of music; Total, 34 pages. PDF $15.00
Duo 3: Fl & Cl score, 17 pages; Flute & Clarinet parts, each 11 pages of music; Total, 46 pages. PDF $16.50
=============================================================
For those who would prefer to purchase professionally-printed hard copies, our print editions of the 2nd Book of Duos, Op.11 by Eugène Walckiers, transcribed for Flute and Clarinet are available directly from NSM. Duo 1, $17.85; Duo 2, $25.50; Duo 3, $28.05; plus a $5.95 shipping and handling fee to addresses in the USA. Please use the Contact Us form to let us know which hard copy publication(s) you would like to purchase, along with your email contact information and USPS mailing address. We will then send you a PayPal invoice for the sale and, once we receive notice from PayPal that you have paid for the item(s), we will ship your music to the address provided.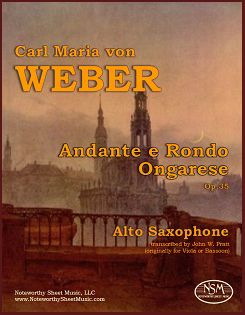 Andante e Rondo Ongarese, Op.35, by Carl Maria von Weber

Transcribed for Alto Saxophone (and Piano) by John W. Pratt
Alto Saxophone Part, PDF $6.99
In presenting our transcription of the Andante e Rondo Ongarese by Carl Maria von Weber for alto saxophone, we are keeping with a long-standing tradition of creating saxophone arrangements of 19th century recital pieces. This piece was first written in 1809 for viola, but was revised in 1813 for bassoon, in which form it became increasingly popular. NSM previously published our own version of Weber's Op.35 for clarinet, and after consultation with our saxophonist colleagues we decided to offer an alto saxophone version as well. In preparing his transcriptions of this fun, challenging piece, John Pratt worked from the public domain edition for piano and bassoon at imslp.org, where a free pdf download of the piano part is available. Our edition provides the transcribed solo part, which works perfectly with the pre-existing piano score.

Alto Saxophone part, 5 pages; Total, 8 pages.
Preview