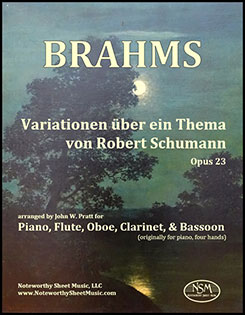 Variationen über ein Thema von Robert Schumann, Op.23, by Johannes Brahms
Arranged for Piano, Flute, Oboe, Clarinet, and Bassoon by John W. Pratt
Piano Score and Wind Parts, PDF $16.99
- adapted from John W. Pratt's foreword to the edition: Brahms's Variations on a Theme by Robert Schumann, Op.23, were written in tribute to his friend, for piano four hands. Yet how often have you heard this exquisite masterpiece, in any form? Arranging it as a quintet for piano and winds allows realization of its implicit orchestral effects and incorporation of contrasting and beautiful woodwind sonorities while preserving its many special piano sonorities and its personal, chamber music qualities and will, hopefully, encourage performance. The variations range from delicately decorative (Var. I) to spectral (IV) to warmly Brahmsian (many) to bravura (IX) and even perhaps witty (V and VII). The final variation (X) is an amazing valedictory, a funeral march which becomes combined with the theme and is suffused throughout with sadness, solemnity, resignation, and reaffirmation, by turns and even simultaneously. Especially apt contributions by the woodwinds in this arrangement include, to mention just two, the appreciative chuckles accompanying the rollicking theme of Var. V and the chorale effect at the end of Var. X. At the same time, the arrangement allows the piano to fulfill its usual roles in chamber ensembles and to contribute some special colorings of its own, including the multi-octave filigree of Var. I, the layout of the accompaniments in the first part of Var. III and last part of Var. V, the bass rumbles of Var. IV and Var. X, and the two-hand octaves in Var. VI and Var. IX.
Listen to a computer-generated audio clip of the Theme; of course, real live instruments will sound even better:
The Preview below is a page of the score from Var. VI. Note that the score is presented in concert pitch.
Score, 28 pages; Flute, Oboe, B-flat Clarinet, and Bassoon parts, 4 pages each; Total, 48 pages.
Preview