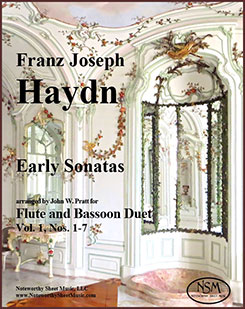 Early Sonatas, by Franz Joseph Haydn
Arranged as Woodwind Duets by John W. Pratt (originally for keyboard)
Even the earliest of Franz Joseph Haydn's keyboard sonatas have great rhythmic variety and vitality, and are delightful when played with verve. They are mostly in two voices, and even where not, their early classical harmonies are easily conveyed by two instruments. They incorporate few pianistic effects and lie comfortably within range for flute or oboe and bassoon or clarinet, and thus make natural woodwind duets of lively, interesting music. All these editions include a score and parts. Those wishing to consult the keyboard editions of the Haydn sonatas, from which Mr. Pratt created his arrangements, can find them at imslp.org. (Adapted from J. W. Pratt's preface to the edition.)
Cover image "Decorations of the Sala Terrena, Eszterházy Palace in Fertőd, Hungary" by Monyesz, Creative Commons Attribution-Share Alike 3.0 Unported license.
►Early Haydn Sonatas arranged by John W. Pratt as Duets for Flute and Bassoon, Vol. 1, Nos. 1-7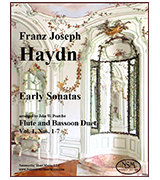 This edition includes seven of Haydn's early keyboard sonatas arranged as duets for flute and bassoon. John Pratt's creation of these duets was inspired by a desire to offer two of his music colleagues some new music to enjoy, as they had exhausted their available flute and bassoon duo repertoire. These duets work nicely for winds and are fun to play. For a sense of how they sound when played by flute and bassoon, click below to listen to a computer-generated audio excerpt: the first 45" of the recording come from the Andante of Sonata 5 (Hob. XVI:11), followed by 25" of the Sonata 6 (Hob. XVI:10) Presto. Alternatively, the flute part can be played on oboe, making these sonata arrangements nicely amenable to oboe and bassoon duos as well.
Score, 26 pages; Flute part, 14 pages; Bassoon part, 11 pages; Total, 54 pages; PDF $14.75
Preview: Vol.1, Nos. 1-7, Flute and Bassoon