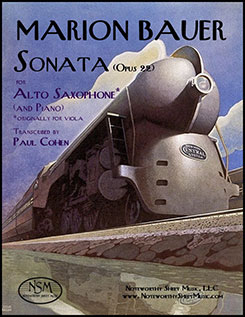 Sonata, Op.22, by Marion Bauer
Transcribed for Alto Saxophone (and piano) by Paul Cohen (originally for viola and piano)
Alto Saxophone Part, PDF $11.79
Paul Cohen is one of America's most sought-after saxophonists for orchestral and chamber concerts and solo recitals. In addition to being a renowned performer and recording artist, he is also a talented arranger, lecturer, and collector of rare and historical instruments. Dr. Cohen holds MM and DMA degrees from the Manhattan School of Music; he currently serves on the faculties of the Manhattan School of Music and Rutgers University. We at NSM were pleased for the opportunity to collaborate with him on this publication of his transcription of Marion Bauer's Sonata for alto saxophone.
from Dr. Paul Cohen's preface to the NSM edition © April 7, 2021:
"Bauer composed this sonata in 1932 or 1935. It originally was written for viola, and dedicated to the memory of her friend and colleague, Albert Stoessel who was a distinguished American violinist, conductor, author, composer, and educator in the 20th century. Bauer soon after created her own idiomatic transcription for clarinet and piano, and the sonata was published as a work for viola or clarinet in 1951. It is revealing to see the differences in the viola and clarinet versions. The piano part remains unchanged in both.

There is a history of music for viola successfully adapted for saxophone by the composers. Fernande Decruck's Sonata (1943) for saxophone and piano (or orchestra) was originally written for viola, as was Ross Lee Finney's Sonata in A Minor from 1937 (viola and piano), adapted for saxophone in the early 1970s. Several works for alto saxophone and orchestra written for the American saxophonist Elise Hall were originally written for viola, including Florent Schmitt's Legende (1918) and Choral Variee´ (1903) by Vincent D'Indy. Adolph Busch composed his Suite for violin and either viola or alto saxophone in 1926, while in 1923 Darius Milhaud replaced the viola with the saxophone in La Creation du Monde literally positioning the saxophone in the viola chair in the string section. My saxophone adaptation of Bauer's Sonata combines elements of the clarinet and viola versions, creating a version appropriate for the alto saxophone. This includes changes in range, articulation, phrasing and dynamics to create an idiomatic (though challenging) version for the alto saxophone faithful to the musical intent of the composer."
For additional information about Marion Bauer, please see the text excerpted from Peter H. Bloom's preface to NSM's 2014 publication of his transcription of the Sonata for alto flute.
We provide only the transcribed alto saxophone part in our edition; a pdf of the piano score is available from imslp.org.
Alto Saxophone Part, 11 pages; Total, 14 pages
Preview