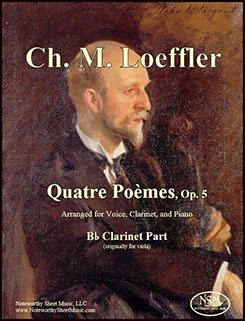 Quatre poèmes pour voix, alto et piano, by Charles Martin Loeffler
Viola part transcribed for Clarinet by C.A.Vater
Part for B-flat Clarinet; PDF $10.99
Noteworthy Sheet Music's transcription of the viola part for Brahms' Two Songs for Alto, Viola, and Piano, Op. 91 for clarinet quickly became one of our most popular editions, so we wanted to please our customers with another voice, clarinet, and piano option. We decided to create a clarinet version of the poems famously set to music by Charles Martin Loeffler (1861-1935). Quatre Poèmes pour Voix, Alto et Piano, Op. 5 was premiered by the Boston Symphony Orchestra with Loeffler himself on viola. In these four songs, Loeffler set to music one poem by Charles Baudelaire ("La cloche fêlée") and three poems by Paul Verlaine ("Dansons la Gigue!", "Le son du cor s'afflige vers les bois", and "Sérénade"). Each of these songs has a unique character but Loeffler's love of color variations and dense harmonies can be heard throughout the set.
We have taken care to adapt the viola part to the clarinet as conservatively as possible, and we think it works well. Obviously, there are places where we had to make modifications, and occasionally some difficult choices—for example where the viola has double stops, goes out of clarinet range, or uses harmonics or pizzicato. We encourage clarinetists who plan to perform this piece to listen to recordings of these songs with viola, and to consult the original
viola part and score
, available as free PDF downloads from imslp.org. Our edition includes only the transcribed clarinet part.
B♭-Clarinet part, 10 pages; Total, 14 pages.
Preview