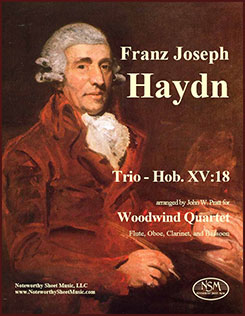 Trio, Hob. XV:18, by Franz Joseph Haydn
transposed to B-flat major and arranged for Woodwind Quartet by John W. Pratt
Score and Parts for Flute, Oboe, B-flat Clarinet, and Bassoon; PDF $20.97
As noted in the arranger's forward to the edition, the later piano trios of Franz Joseph Haydn (1732-1809) are superb music, but because they were written for excellent pianists and weak string players, they are dominated by the piano part. This imbalance among the parts actually makes the trios highly amenable to and effective in arrangement for woodwind quartet. Written after Haydn's first visit to London, the Piano Trio in A major, Hob. XV:18, was first published in 1794. The first of its three movements, a flowing Allegro moderato, is unified by ingenious use of the three-note motif opening its cantabile main theme. The lovely middle Andante, in ABA form and 6/8 meter, features some luxurious ornamentation and proceeds attacca to the spirited and humorous Allegro finale. The resources of a woodwind quartet are well suited to the musical ideas of this trio, and the arrangement adapts Haydn's piano, violin, and cello lines wonderfully to the range and sonority of the instruments used: flute, oboe, B-flat clarinet, and bassoon. This adaptation is facilitated by transposition from Haydn's original key of A major to B-flat major. We provide parts plus a score in concert pitch.
Click to listen to computer-generated audio samples from the score; audio clips from movements I (m44.4 - m64.3), II (m0 - m4.5 & m49.6 - m54.5), and III (m36.2.2 - m48) are separated by brief pauses.
Score in concert pitch, 21 pages; Flute part, 8 pages; Oboe part, 6 pages; B♭-Clarinet part, 5 pages; Bassoon part, 5 pages; Total, 52 pages.
Preview