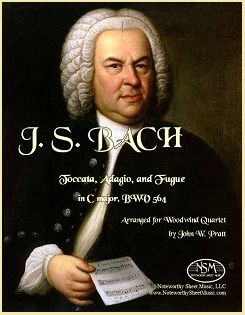 Toccata, Adagio, and Fugue in C major, BWV 564, by J. S. Bach
Arranged for Woodwind Quartet by John W. Pratt
Score and Parts for Flute, Oboe, Clarinet, & Bassoon, PDF $21.25
excerpted from JWP's © foreword to the edition:
Among J. S. Bach's big organ works, the Toccata, Adagio, and Fugue, BWV 564 is atypical in ways that make it unusually well suited to transcription for woodwind quartet. Unlike most, it has a middle movement, an Adagio with an elaborate and gorgeous melody which lies comfortably for flute and can benefit greatly from the shaded, nuanced dynamics and articulations that a solo flutist can provide. The other winds bring out Bach's beautiful voice-leading in the Adagio's two inner parts and its marching but not martial bass. The four-part Fugue is unusual, too—light and lighthearted, happily adaptable to woodwinds, with no call for great power and, rather than a climactic ending, a fading coda that defies convincing treatment on the organ. The exuberant Toccata starts with an extended manual solo passage ... mostly in 32nd notes, which ... I felt it would be more effective as a game of frequent handoffs between instruments than as a series of longer individual études. The pedal solo, mostly 16ths, calls for the extra weight of doubling.
Click to listen to a computer-generated audio sample from the end of the Toccata into the beginning of the Adagio.
Score, 17 pages; Flute part, 6 pages; Oboe part, 5 pages; Bb Clarinet part, 5 pages; Bassoon part, 4 pages; Total, 46 pages.
Preview