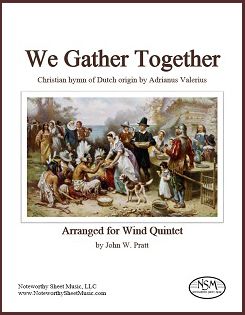 We Gather Together, by Adrianus Valerius
Arranged for Woodwind Quintet by John W. Pratt
Score and Parts for Flute, Oboe, Bb Clarinet, F Horn, and Bassoon; PDF $5.99
Wilt heden nu treden, nowadays more commonly known as We Gather Together, is a Christian hymn of Dutch origin composed by Adrianus Valerius and first published in 1626 (imslp.org); it was later harmonized by Eduard Kremser (en.wikipedia.org). In the United States, We Gather Together is the most popular song traditionally associated with the Thanksgiving holiday. John Pratt has created an arrangement of We Gather Together for woodwind quintet that lends new excitement and interesting harmonies to this old favorite. In his family, the tradition goes back as far as John Pratt (b. 1931) can remember, and when it fell to him to play all three stanzas at his family's annual gathering, he got interested in livening it up. The opportunistic half-step modulations introduced to help amateur voices warm up also brighten successive stanzas for winds. Our Noteworthy Sheet Music edition includes a score in concert pitch, as well as parts for flute, oboe, Bb clarinet, horn in F, and bassoon.
To listen to a computer-generated audio file of the WW5 arrangement, click the link.
Of course, the piece will sound much better live on real instruments.
Note that for this publication, the parts should be printed one-sided since they are only one page each and we have not inserted blank filler pages.
Score, 3 pages; Parts for Flute, Oboe, Bb Clarinet, F Horn, and Bassoon, 1 page each; Total, 10 pages.
Preview